Archive ESL Europe Europe StarCraft II Country Championship
CC 2012: The Final: Germany vs Poland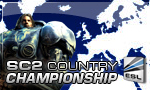 The grand final of the Country Championship 2012 featuring Germany and Poland, two of StarCraft 2 biggest nations, has been played. Who is victorious? You will find out next week in the replaycast brought to you by ESL TV, TaKeTV and ESL TV Poland!
After several months of struggling to schedule the match and then the separate matches, all games have been played and a winner is known. We will not however reveal a winner yet, as the matches must be first replaycasted for your enjoyment!
Germany vs Poland for the title
A match months in the making; a reminder of how each team reached the final.
In the semi finals
Poland
overcame

Spain
in a match that went 3:2, likewise
Germany
had the same result against

Finland
Watch the replaycast brought to you live by ESL TV
We're proud to announce that the match will be covered live in at least three languages, brought to you by

Josu
,

TaKe
and

Zedd from ESL TV Poland
.
Stay up to date, follow us!
Feedback
If you have any feedback - bad or good - about anything we are doing in StarCraft II then please go ahead and post in the feedback topic in the forum.
We are looking for admins!
Would you like to help to run the Cups and Ladders at the ESL SC2 section? You know exactly what the SC2 community needs and you would love to be a dedicated admin? Then Apply now!
Good luck and have fun,
Your


Admin team


Information:
info write comment not allowed