Archive ESL Europe Europe Quake Live
ESL-TV QL Inv - Win prizes and watch the show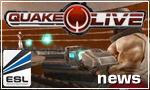 Heres some informations regarding the prizes which will be given to the spectators during the Intro Show of the ESL-TV QL Invitational sponsored by Razer. The quizz is very easy: you must separately guess the winners of the 2 qualification and the exhibition matches. So you get 3 chances to win! Note that this show will be aired @ 19:00 CEST, 16 July 2009.
In order to play, you must post your 3 choices in the comments of the
Intro Show streaming
before the show begins. The entrys who guessed the match winners correctly will have a chance to be rewarded with 1 of the 10 ESL-TV Premium accounts for 1 month, this will grant them access to the Premium quality streaming on ESL-TV enabling you to watch it in its best quality. The next shows covering the 4 Playdays and Finals will feature hardware prizes from Razer including mousepads and mice. The quizz for each Playday will be posted 1 day before the show.
Intro show matches
19:00 CEST fazz vs. madix (Qual. #1)
19:30 CEST PURRI vs. Weird (Qual. #2)
20:00 CEST av3k vs. stermy (Exhibition)
Schedule of the tournament
Introductory Show: 16th July, Thursday
- Playday #1: 20th July, Monday
- Playday #2: 23rd July, Thursday
- Playday #3: 27th July, Monday
- Playday #4: 30th July, Thursday
- Finals: 3rd August, Monday
Each Playday will feature 4 players in a single elimination bracket, the winner will then join the Finals. All the shows will start at 19:00 CEST and finish at 21:00 CEST.
Invited players
Playday #1
srs/rzr/av3k vs. dignitas/GaRpY - noctis vs. PURRI or ovr-Weird
Playday #2
spart1e vs. [aAa]link1n - [M]strenx vs. fazz or xlo-madix
Playday #3
SK|bodzo vs. [R]draven - LLL*fox vs. dignitas/HELL
Playday #4
srs/rzr/cypher vs. broken`calip - k1llsen vs. GUard
Prizes
The winner of each Playday will be rewarded with 100€ and will attend the Finals.

The winner of the Finals will be rewarded with 500€ and the second with 100€.

Also RazeR will provide 500€ of products for the spectators of the show.
16/07/09 13:00 EDT
otacon
, Thursday, 16/07/09 04:34


Information:
info write comment not allowed