Quake Live 1on1 Ladder
Let's get ready to Rumble!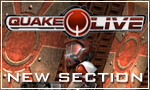 Many of you have been waiting and asking when the first Ladder is open for signup and playing. Beginning today you can do this! The first step in this new section is to establish the first ladder with a 1on1 competition. We wish you good luck and have fun in our Quake Live 1on1 Ladder.
The new

Quake Live 1on1 Ladder
is a very special ladder with lots of events. So it isn't the simple Ladder you know from other Games. Stay tuned for more information in future.
Details
of this ladder
Quake Live 1on1 Ladder


---

Info & Details Set of Rules Rankings



Structure: Ladder
Game type: 1on1
Distance: Best of 1
Map pool: qzdm6, qzdm13, tourney4, tourney6, tourney7
Timelimit: 10 minutes




Signup now ...



Feedback & Support
We would like to see your feedback and questions in our
Forum
. You can also visit us in our IRC Channel
#esl.quakelive
(QuakeNet) or you can write a
Support
Ticket.
Best wishes,
your

ESL Europe
MaRlik
, Monday, 16/02/09 12:25


Information:
info write comment not allowed