CC2011 - ZLC Interview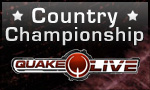 A couple hours before the last Semi final (UK vs France) of the Country Championship TDM 2011 starts, our staff went for a quick interview with the Danish captain: ZLC. After defeating Sweden, the Danish team will face tonight's winner in the final!
Interview with Jacob '2621764' Sønderskov (config)

ESL: Hej! Please tell us a bit about yourself and your Quake career.

ZLC: Well. My name is Jacob Sønderskov and I've been playing Quake for close to ten years I guess it is now. Started out with RA3 in the Danish scene which was pretty active. After that mellowed out I started playing Quake 4 CTF for #k1ck winning loads. And when that community kinda settled I came to Quake Live. Initially playing CTF, but I later got drafted to a TDM-squad (e-violence) by this German guy, Smuf. :)

ESL: You just beat the favorites, all mighty Swedes, in the semi final of the ESL Country Championship. Congratulations! Now, how did you do that?

ZLC: Well. I think it's a combination of them underestimating us and us figuring "let's just play how we usually do." That and of course having mega-boss 4295115 dishing out damage. :)

ESL: What do you think makes your team so good? How do you play as a team, who are the key players in the team and what is your role in the team?

ZLC: We communicate quite good to be honest and it's not the first time we play together. Last year in ENC (I think it was) we wound up placing 3rd with me, Juven1le, 5142849 and 1730660. Since Juven1le and Vium are used to playing together and nightops is an all-round tactical player it's good company to be in. I just mainly have to control my rage, and help out where needed. :)
I guess if I'm anything I'll gladly take a rocket to the face to let the others run away with a key item. And of course as for the key player part, that'd be juven1le for the most part.Besides the fact that his aim is out of this world. He also has a very good sense of the situation on the map.

ESL: Tonight's match will decide whether you will meet the French or the British team in the finals. Who would you like to meet and why? Who do you think will win that semi final and what are your chances to win the final?

ZLC: The only game we've lost yet was against France, so we'd (I'd) like to meet them again. First time around we didn't really bring our A-team and i would love to play against them when we have our starting lineup. I do think it will be France that will win the semi. Mostly due to the talent and the fact that 4056752 and winz play well together. If we have our starting lineup I actually think we can beat France. The group game wasn't a real indication of our "strength", so It'd be awesome to go against them again "with all our might".

ESL: How did you like the ESL Country Championship so far? Do you have any feedback on format, map pool, seedings, coverage or overall organization?

ZLC: Format seems okay with single elimination. Otherwise it'd drag out too long. Map pool is fine and contemporary. I cant really recall the specific seedings, but I'm hoping Denmark have proved we we're seeded a bit too low? :)
Coverage has been fine. I don't know if you mean streams and such, but judging by most of our games being covered by one or more stream teams, I'd say the cup has been very well covered. All in all I'd say it's been quite successful. Admins have been quite patient and understanding and not harsh and strict about the rules.

ESL: Thanks for the interview and good luck for the finals! Any last words?

ZLC: Shoutout to all the Danes I guess. "Mer sovs!" :) (more gravy)

xou
, Tuesday, 04/10/11 11:14

No comments yet.

Information:
info write comment not allowed