EMS VIII Quakelive : Get ready!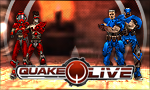 The next Season of the ESL Major Series is coming soon! And since the game type was changed from TDM 4v4 to TDM 2v2 we will be running two cups soon to have a taste of 2 fresh 2v2 maps: Hidden Fortress and Devilish!
Each of these two cups will be dedicated to Hidden Fortress or Devilish. So the cup format will be Double Elimination brackets with best-of-1 matches.
The first cup will be played on Wednesday 9th of February starting at 21:00CET and will use Hidden Fortress. The second cup on Sunday 13th at 20:00CET will use Devilish.
So far, only teams with 2 members will be allowed to sign up. If you wish, you can create a 2-members subteam attached to your team to sign up. In this case, the squad will be ready when the EMS8 Qualifiers sign-ups will open! To create a subteam, just get to your "Team Admin Center" and use the "Register subteam" link.
Finally, we only plan 16 teams to take part in the cup, but we will increase this limit depending of the sign-ups.
Details - TDM 2v2 Pre-EMS8 - Hidden Fortress

Date: 09.02.2011


Check-in: 20:40 - 20:55 CET


Start: 21:00 CET


Rules: -> Read


Sign up: -> Join!


Max Teams: 16 - 2on2


Cup format: Double Elimination
Details - TDM 2v2 Pre-EMS8 - Devilish

Date: 13.02.2011


Check-in: 19:40 - 19:55 CET


Start: 20:00 CET


Rules: -> Read


Sign up: -> Join!


Max Teams: 16 - 2on2


Cup format: Double Elimination
Mappool
| | |
| --- | --- |
| Devilish | Hidden Fortress |
Best Regards,


Staff ESL Global
xou
, Saturday, 05/02/11 11:55


Information:
info write comment not allowed