Archive ESL Europe Europe Prime World Go4PrimeWorld
Nival supports Prime World with a Go4 Series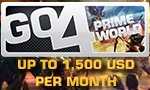 Together with Nival we are happy to start 2014 with a big announcement - the Go4PrimeWorld Cup Series! It will include a Go4PrimeWorld Cup Series with weekly cash prizes and Monthly Finals. In partnership with Nival, the publisher, we would love to give you an overview on what is planned for Prime World.
What is Prime World?
Prime World
merges persistent RPG hero development, PvP and story-driven battles and castle building. You can hire, equip and train your heroes between battles using collectible and upgradable talents, build a thriving economy in your city, and play together with your friends. You can even start your own clan and fight other clans! There is also a small guide on
How to play Prime World
.
What is Go4PrimeWorld?
The Go4PrimeWorld Cup Series has one cup on each week, where you can earn points to qualify for the Monthly Final. On every Sunday the Top32 teams will receive points and the winner will receive an additional
100 USD
.
The Monthly Final will take place at the beginning of each month. The final will consist of eight teams who gathered the most points during the weekly cups. There the teams will compete for a total prize pot of
1,000 USD
.
Schedule for the upcoming Go4PrimeWorld Cup Series
Quick rules

Game Mode: Borderlands

Team Size: 5on5

Residence: This tournament series is not available for players from the CIS regions
Prize money and ranking point distribution
| Place | Sunday Cup | Monthly Final |
| --- | --- | --- |
| 1st Place | 100 points + 100 USD | 500 USD |
| 2nd Place | 60 points + 200 Gold | 300 USD |
| 3rd Place | 40 points + 100 Gold | 200 USD |
| 4th Place | 25 points | - |
| 5-8th Place | 10 points | - |
| 9-16th Place | 5 points | - |
| 17-32nd Place | 1 point | - |
We wish all players and teams the best of luck and have fun playing in the
Go4PrimeWorld Cup Series.
Prime World is powered by

No comments yet.

Information:
info write comment not allowed