Archive ESL Europe Europe osu!
VERSUS - osu! is a new game!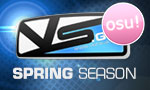 After your feedback in the forum we decided to add this game to VERSUS and now it is your turn to proof that it is worth it. We will see how the active the game is in VERSUS over the next weeks and if it is active enough we will keep it. So join us and play VERSUS! Please read the quick reminder of how to play VERSUS in the news.
How to play VERSUS?
| | |
| --- | --- |
| | Just click on the "PLAY VS." on the top of the page and pick osu! from the list of games. Read the short ruleset by clicking on the button. Last step is clicking on "Search for match" and here you go! |
*Note:
You should keep in mind that in the beginning of VS. in osu! it will be difficult to find a match without promoting VERSUS, so it would be nice if you can write your friends "GO VS." everywhere!
The participation is quite simple. You need to be logged in and then simply click
here
.
You will find further instructions in our
VERSUS Portal
.
How2VERSUS

Reporting players: How to get rid of troublemakers
How2VERSUS

Veto: How to get your result corrected the quickest
How2VERSUS

Leavers: Your marking to rule them all
Rules
For this game you need an account on the
official website
.

Gamemode: 1vs1 Beatmaps

Mode: Best of Two

The player on the left side picks the first beat map to be played. The player on the right side chooses the second map.

The player, who chooses the map, also chooses the difficulty

Each player has to copy the download link of his/her map into the VS. chat

If you fail a map, it is not a loss. The map has to be played until the end.

Possible results after two maps: 2:0, 0:2 or 1:1.

Leaving a map counts as a forfeit and the map is lost

Please enter the correct result in VERSUS!
VERSUS Kickstart Award!
The most active players during the two first weeks of osu! in VERSUS will be awarded with this exclusive award. To be eligible for it, all you need to do is play matches, it does not matter if you win or lose!
Also check out the
VERSUS awards portal
, where you can find all VERSUS awards and how you can get it.
We wish all players good luck and have fun playing VERSUS and remember as a Premium member you have some advantages in VERSUS:

Your map vote counts twice

You get a bonus of 10% for all earned VS.

On the matchsheet you see who played in which party


Information:
info write comment not allowed