Archive ESL Europe Europe Nexuiz
Nexuiz €4000: Finals on Wednesday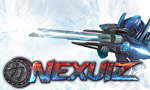 Congratulations to jewRo & ghost on qualifying in the final cup. The finals of the Nexuiz €4000 tournament will take place on Wednesday, featuring eight top players fighting for an extra €2400 in prize money, and coverage courtesy of Team Druidz.
jewRo wins Cup #4, ghost runner up
Congratulations to

5417420
on winning the fourth and final cup in the series, who has together with

7427182
qualified for the finals.
The Finals
The finals will be played on Wednesday, 30th January kicking off at 19 CET. There will be coverage on the
Team Druidz stream
The qualified players are:

2006111

Jo0f

7328831

5417420

7335390

7344930

k00pl

7427182
The prizes:
1st. €1000
2nd. €500
3-4th. €250
5-8th. €100
Stay up to date, follow us!


Information:
info write comment not allowed