Archive ESL Europe Europe Nexuiz
FFA Nights - Win an Alienware PC!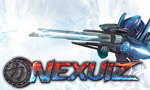 To help get you playing Nexuiz, the developers Illfonic are putting up an Alienware PC as a prize for a series of FFA nights.
As part of our efforts to kick-start the Nexuiz community, we have teamed up with the developers to host a series FFA nights. As some extra motivation, Illfonic are putting up an Alienware PC as prize for the top FFA player.
Play FFA, win an Alienware PC!
At the following times we will host a 32 player FFA, first come, first served. The top 4 players at the end of each FFA will be invited to a final FFA.
The champion of the final FFA will win
an Alienware PC
courtesy of Illfonic.
Monday 10th December 19 CET - Sign up!
Monday 17th December 19 CET
Monday 7th January 19 CET
Monday 14th January, 19 CET
Final: Monday 21st January 19 CET
Sign up to the first cup now and you will be mailed the server details on the day of the FFA.
Stay up to date, follow us!


Information:
info write comment not allowed