Archive ESL Europe Europe Nexuiz
Nexuiz €4000 Tournament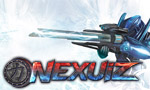 Hot on the heels of Tuesday's big update, we are excited to announce a €4000 tournament series for Nexuiz that aims to jumpstart the competitive community. Early registration is open now!
Better than ever before!
Tuesday's update brought two big features that competitive players have been wanting since release: the Duel DLC has been made free, opening up Duel to everyone, and the new UGLY mode gives players the choice to prefer performance over amazing graphics.
€4000 Tournament: Featuring €1000 Grand prize
Together with developers Illfonic, we have put together a €4000 tournament for Nexuiz featuring four prize winning cups and finals.
Nexuiz €4000 Tournament
Cups
Finals

Four cups
€400 prize money
Top 2 players go to finals
Unlimited players
Single elimination

Eight players
Single elimination
€2400 prize money

1st. €1000
2nd. €500
3-4th. €250
5-8th. €100
Schedule
Cup #1. Tuesday 4th December, 19 CET -
Sign up now!
Cup #2: Tuesday 11th December, 19 CET
Cup #3: Tuesday 18th December, 19 CET
Cup #4: Tuesday 10th January, 19 CET
Stay up to date, follow us!


Information:
info write comment not allowed