Archive ESL Europe Europe Unreal Tournament 3
Unreal Tournament 3 Demo tournaments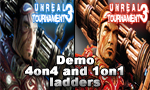 Ladies and Gentlemen. The moment that some of us have waited for for over two years has arrived. Unreal Tournament 3, the game formerly known as UT2007 and the third sequel of the legendary Unreal Tournament, is near and the first playable demo has been released! It is my duty and honor to announce the first competitions for Unreal Tournament 3 in the Electronic Sports League.
Loads of things are about to happen within the next weeks in the new established Unreal Tournament 3 section of the ESL, but all good needs a start and we decided to put our first efforts in this brand new game into one of the most successful competition systems in the history of electronic sports.
We're hereby announcing the official start of the ESL's Unreal Tournament 3 1on1 Duell and Unreal Tournament 3 4on4 & 2on2 Teamdeathmatch ladders!
As Epic Games and their publisher Midway were kind enough to offer us two maps for this demo instead of only one as it was the case with the demo of the prequel of this game, all matches will be played on both maps - DM-Heatray and DM-Shangri-La.
As the options adjustable in the demo are limited, the trouble now obviously is, that one of these two maps has a rather big problem with the existence of large metal objects that walk and shoot. Thereby, we want to make clear that it is strictly forbidden to enter and/or use the Darkwalker on DM-Heatray during Duel and Teamdeathmatch. Abuse of the Darkwalker in ladder matches will lead to penalty points and immediate ban from the ladder.
Furthermore, the use of the powerups "Berzerk", "Double Damage" and "Invisibility" is not allowed in Duel. Abuse of these items will lead to penalty points and immediate ban from the ladder, too.
It's our hope that the ladders will deliver good proof that the game is very much suited for the competition. Thereby, we're announcing the beginning of a Most Matches Competition (MMC) for both ladders, meaning that the player and the team that play the most matches from today until November 18th, 2007 will win a Premium Account worth of 3 month in the ESL.
You can find the Ladders here:
Unreal Tournament 3 4on4 Teamdeathmatch Ladder
(infos & details)
Unreal Tournament 3 2on2 Teamdeathmatch Ladder
(infos & details)
Unreal Tournament 3 1on1 Duel Ladder
(infos & details)
68865
, Thursday, 18/10/07 08:57


Information:
info write comment not allowed