IEM Katowice: More tickets going on sale!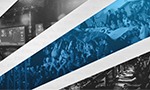 The second batch of Priority Entrance tickets for IEM Katowice is going on sale! As has been announced previously, tickets for the Intel Extreme Masters event in Katowice are being sold in several batches. While the first batch was sold out very quickly, the second batch is now going on sale on Friday, January 10th at 18:00 CET.
Mark the day in your calendar if you want to secure yourself Priority Entrance tickets to experience the Intel Extreme Masters World Championship as well as the EMS One Katowice CS:GO Championship with a combined
$500,000 prize pool
in

StarCraft II,

League of Legends and

Counter-Strike: Global Offensive.
Tickets are being sold for March 14th to March 16th - both 1-Day-Passes and 3-Day-Passes are available. The amount of tickets being sold in this batch is once again limited, as more will become available at a later time.
Please note that access to the venue is free, and that the Priority Entrance ticket merely ensure access without waiting times as well as prior to actual show opening, making sure that owners of a ticket can secure themselves a seat.
Frequently Asked Questions
Do I need a ticket to enter this event?
- No, there is no entry fee, our Early Entry tickets are merely a chance for visitors who come from far away to be sure that they will be able to enter (without facing a long queue).


What do I gain with Early Entry Ticket?
- Early Entry Ticket guarantees entry to the venue at any time of arrival! Tickets also grant you early access to venue via a separate entry gate, in order to secure yourself a seat before the gates open for everyone.


Are there seats assigned to Early Entry Tickets?
- No, Early Entry Tickets have no seats asigned, they guarantee early entry to secure yourself a seat however.


How may Early Entry Tickets will be available?
- There will 3000 Early Entry Tickets available for each day of the event.


What will be the price of Early Entry Ticket?
- Price will be 40 PLN (approx. 10 EUR) for 1 day.


Are there 3 day passes available?
- After all comments we have received we have decided to check if that's possible. More information will be given on later notice.


When can I buy Early Entry Ticket?
- Early Entry Tickets will be available in batches, the first batch will be made available in the coming week


Are there going to be more space for visitors in Spodek?
- Yes! We will place more displays which will expand game visibility to side and rear sectors of the venue that were unused during the last year.


Are there going to be any additional activities for visitors?
Yes! Besides the main tournament, there will be more to do – activitiers will be organized both on the main field and the rotunda, which is the entrance area. You will be able to participate in a number of tournaments and raffles, as well as get hot meals and beverages there.


Will I be able to enter earlier?
- Yes, if you have an Early Entrance Tickets you can enter 90 minutes before the gates open for other visitors.
More information regarding the Intel Extreme Masters World Championship in Katowice will be released soon - everything that's known so far can be found on our dedicated tournament page.


Information:
info write comment not allowed