Archive ESL Europe Europe
European Championship: $10,000 and a ticket to L.A.!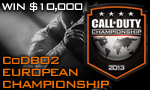 Activision, together with Europe's biggest league for computer games, the Electronic Sports League (ESL), are looking for the best Call of Duty team in the world on the Xbox 360. Take part in our Go4BO2 cups, and you could earn an invite to the European Championship at ESL's eSports Arena, located in Cologne, Germany. There you can compete against the best teams in Europe for a cash pool of $10,000 and a chance to go to the Call of Duty: Black Ops II Grand Final in L.A.!
Call of Duty: Black Ops II European Championship
To reach the European Championship, hundreds of teams from eight regions (Benelux, Scandinavia, Germany, Italy, France, Spain, United Kingdom and Rest of Europe) will battle their way through our weekly Go4BO2 cups
from February 3rd to March 3rd
. Each Go4BO2 cup will allow teams to earn points towards qualifying for the European Finals. The best sixteen teams from Europe will be invited to the European Finals at the ESL eSports Arena in Cologne. There, the teams will compete for eight spots at the World Finals in Los Angeles. In addition to that, they will win a share of the
$10,000 cash pool
!
All travel and accommodation for the events is included, plus catering.

Further information about the European Championship can be found at:
cod.esl.eu
If you want to go to the World Finals but you can't make it to the European Championship, there will be more ways to qualify, for example through the
MLG Winter Championship
in Dallas, Texas held on the 15th to 17th March.
What are Go4 Cups?
Go4 Cups are special cup series featuring big brackets and prize money. Every Sunday you can play a cup in which you can win prize money and points to qualify for the monthly finals. Each week the top half of teams receive points and the winners win €125. At the end of the month, the top 8 teams with most points qualify for the monthly finals for the chance of winning another
€500 prize money
.
The next
five
Go4BO2 cups will count as qualifiers for the European Championship. All cups kick off at 15 CET.
3rd February:
Qualifier #1
(Go4BO2 #10)
10th February:
Qualifier #2
(Go4BO2 #11)
17th February:
Qualifier #3
(Go4BO2 #12)
24th February:
Qualifier #4
(Go4BO2 #13)
3rd March:
Qualifier #5
(Go4BO2 #14)

You can find more information about the Go4Black Ops II Series on the
Go4BO2 website
.
How can my team take part?
To take part, everyone on your team must be registered on the ESL, with your Xbox Live Gamertags entered and be together in an ESL team. To help you with this, we have produced a video with step by step instructions, featuring subtitles in multiple languages!
Call of Duty: Black Ops II European Championship is powered by


Information:
info write comment not allowed