Meet the player: Empire.Nerchio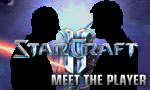 Today, ESL offers a new type of news series: interviews with players participating in the famous Go4SC2 tournament. Empire.Nerchio is one of the most reknown Zerg in Europe. Therefore we will conitnue our series interviewing him!
1) Hello Nerchio, please introduce yourself to our readers
Hello Serra, I am Artur Bloch, a Zerg player from Poland. I am 18 years old and I enjoy playing computer games as well as swimming, reading books, listening to metal/rock music and watching good films.
Empire is a really good team and definitely one of the top, but I don't practice too much with my fellow team members. Only from time to time when some of us have important match then we'll play some preparation games.
I also think every player from my team could go to Korea, but Kas is used to hard work and long training sessions so he would probably do better here.
3) I think you have seen the spoilers for the upcoming about SC2: Heart of the Swarm. What do you expect from this expansion?
I don't expect anything from singleplayer, I will play it as I have done with Blizzard game, but the most important part of SC2 now is multiplayer. I only hope they will bring some units that will make the game more interesting and pro-oriented(spell casters or units that require a lot of micro). I also hope they do not remove any units.
4) What do you think about playing in the ESL Cups ?
I like ESL cups, I play mostly in the Sunday one (
Go4SC2
) because there is quite big prize for the first place and also many top players participating so there is huge competition. Putting the result and a replay is quite easy so that's great because you can do this really fast and focus on playing rather than going around the site. Admins usually react fast to the problems player have during the tournament so that's also fine.
5) Has the ESL made it easier for you to find practice partners?
No, I don't really use cups to find players to practice with. I have sometimes used the ESL site to find an ID of some the top players I wanted to talk to. Tournaments themselves are a pretty nice way of training for patience, controlling stress etc.
6) Do you have any tips for noob Zergs like me ?
It's best to pick and work on 1 build for each match up if you are not pro, but really it's mostly about passion and time you spend on the game that makes you good.
7) If you had something to change in the ESL to improve it, what would it be ?
I Can't think of a thing that could be improved right now because ESL is doing a really good job.
8) I leave you the last word, thanks for your time and the interview !
As usual, shoutout for my team and its sponsors - Seagate, Tt eSPORTS, Thermaltake. Thanks to all the fans that I have!
See you soon for another top player interview !
Your


Admin team


Information:
info write comment not allowed