Behind the Screens: SK Gaming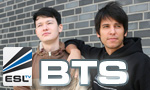 SK Gaming and ESL TV? That's a perfect match for sure! We will show you the brand new fourth episode of BTS today on ESL TV!
"Behind the Screens" will be the first of its kind this time, because Episode IV is the first one that is entirely produced in English! We followed SK Gaming's Counter-Strike team to several tournaments and we will show you how they prepare for their matches. Interesting interviews with the players and exclusive footage from their lives outside of gaming will give you interesting insights into one of the most famous teams in eSports.
Watch the trailer for Episode IV now!
otacon
, Thursday, 09/09/10 10:42


Information:
info write comment not allowed