Archive ESL Europe Europe
Most Matches Competition - July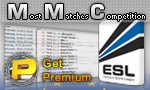 The Most Matches Competition for June has finished and the next month has begun. You may ask: "Who played the most matches in my favourite ladder?" or "Which ladders are in the MMC this month?" Read the whole news and you will find the answers to both of these questions!
What is the Most Matches Competition?
MMC is exactly what it says, a competition to play the most matches. Every month, the players or teams with the most matches in the selected ladders will win prizes. Only 1 ladder per game section can be nominated for the MMC. The team or player with the most matches in a ladder will get
one month premium
. But you need to play at least 5 matches to win the premium.

What can I win?
The team or player with the most matches in a selected ladder will get
1 month premium
.
Who won last month?


Team Excellent



Rosenwinkel



KrmS



vegeta



Rosenwinkel



eSTARZ.CoD4



dimension9.COD:WAW@5v5



lokoX-



autumn mix



dito


Silencer



petit gamer


Edtjuh


b-.-boy



The Black Titans



sopas



nan0, scieN7isT



jAck, Zander


cAmeL



BZ!E* Team LoL



parrita69


Ir0n-Man



Airhan



Mulder_fox34rus



LokI



dddddddddddddd



STRONG



3326211



KraV

What ladders are in the MMC this month?


AAO Objective 3on3 Plus Ladder



AVA Annihilation 1on1 Quick Ladder


AvP 1on1 DM Ladder



BattleForge 1on1 Ladder



Blub Game 1on1 Speed Ladder



Carom3D 1on1 Ladder



CoD2 SD 5on5 Ladder



CoD4 Promod SD 1on1 Ladder



CoD:WW TDM 3on3 Ladder



Combat Arms OMA 1on1 Ladder



Crysis Wars CryticalHit 1on1 Ladder



CS 4on4 MR15 Ladder



CS:S 3on3 Handgun Ladder


CSM 1on1 Amateur Series



DoD:S 6on6 Ladder



DoW Soulstorm 1on1 Ladder


DoW II CR 1on1 Ladder


ET 1on1 Ladder



FIFA 10 Clanwar Ladder


FIFA Online 1on1 Beta Ladder



FM 2010 1on1 Ladder



Half-Life AG 1on1 Ladder


Half-Life 2 1on1 Ladder



HoN 2on2 Ladder



ICQ Games Poker 1on1 Ladder


JK:JA TDM Ladder



LoL 2on2 Ladder



MSN Games 7 Hand Poker 1on1 Ladder


NHL 09 1on1 Ladder


OMGPOP Booya 1on1 Ladder



Operation 7 1on1 DM Ladder



PokerTH 1on1 Fixed Ladder



SF IV 1on1 Ladder



SupCom 2 1on1 Assassination Ladder



SW BF II 5on5 Plus Ladder



SWAT 4 3on3 Plus Ladder



TMNF Fun 1on1 Short TA Ladder



Teeworlds DM 1on1 Ladder


UT 2004 1on1 Ladder


UT3 1on1 Ladder



War Rock CQC 1on1 Ladder



WC3 1on1 TFT Ladder


Zero Gear 1on1 Ladder

All Premium is added straight on to your account, you can check it here.


Information:
info write comment not allowed