Nightcup #2 1v1 on Thursday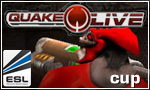 This Thursday we start a new great 1v1 cup in the European Quake Live section. So pick up your mouse and sign up!
We are proud to present you our second ESL QuakeLive Nightcup . The Cup will be open for 32 players but we might expand the grid if more players would like to participate.
Cup-Box

QuakeLive Thursday Nightcup #2

Max players: 32
Maps: qzdm6, ztntourney1, qzdm13, qztourney7, qztourney9
Match mode: Best of 3 maps
Meetingplace: #esl.quakelive on Quakenet

Rules
The ESL Europe QuakeLive rules apply
If a player is 20 minutes late, they will have a default loss
All players must enter their QuakeLive Gameaccount on their Gameaccounts page
If more players sign up, then we may expand the size of the cup and the following timetable will be updated.

Info
Tournament:
First Step

27.03.2010
First come, first served
Sign up

Timetable

01.04.2010
21:00 h
Round #1
01.04.2010
21:45 h
Round #2
01.04.2010
22:30 h
Round #3
01.04.2010
23:15 h
Round #4
02.04.2010
0:00 h
Round #5
02.04.2010
0:45 h
Round #6 (64 grid)
G
ood
l
uck and
h
ave
f
un yours


Your Adminteam
mason
, Monday, 29/03/10 10:06


Information:
info write comment not allowed