Archive ESL Europe Europe New Games
Tactical Ops: Assault on Terror - Test Cup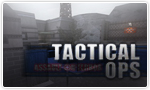 Accordingly to your interest in the forums we proudly present you the comeback of Tactical Ops: Assault on Terror in the Electronic Sports League! We will launch a test cup with version 3.5 to see the overall activity. So, get ready to deal some decent damage to your opponents once again!
Testcup 3.5

Signup now for the 3.5 Cup
(Signup is active until 31th May 2014, 15:30 CEST)


Step 1 - Reservation (green)
Here you can reserve a place in the cup, but you have to confirm your participation later.

Step 2 - Confirmation (yellow)
30 minutes before the cup starts, you have to confirm your participation, if you have done that, you're in the Cup.

Step 3 - Entry (red)
You didn't get a free place in this cup? If there are not enough participants, you can still entering the cup 20 minutes before starting!


Support and Questions during the cup
In case of any questions before the cup, you can contact us via the Support System or go to the Forums. If any problem occurs during the match, or you have a question about the rules, please open a protest or open a Support ticket again if it is not related to your opponent.



// Your

Admin Team