Archive ESL Europe Europe New Games
UT 1on1 ZP iTDM Test Cup is coming!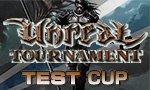 Are you ready for the UT 1on1 iTDM Test Cup? It's not a joke, Unreal Tournmanet is coming back in 2014! We're happy to host a test cup during the next Sunday and what you're waiting for?
Don't miss this Cup if you want to support this game and if you want to keep it on ESL, this is your a chance that can't be wasted!
Join the Test Cup now!
UT 1on1 ZP iTDM Test Cup
Signup now!
Sunday, 26th of January 20:00 CET

Sign up until: 19:00 CET
Start: 20:00 CET
Size: 32 Slots
Structure: Single Elimination
Basic rules:

Maps: Liandri, Stalwart, Malevolence, Oblivion, Deck16
Codex, Curse][, Morbias][,Fractal
Mode:1on1 BO1
Map selection: VETO
Game mode: Instagib TDM


Match rules:

Timelimit: 15
Fraglimit: 30
No show: 10 minutes
Force respawn: ON
Prizes on the line
Here the prizes on the line for the upcoming Test Cup:
| | | |
| --- | --- | --- |
| 1st Place | 1x 1 month ESL Premium Account | |
Info & support
In case of troubles or doubts, don't hesitate to contact us via Support Ticket or join the IRC Channel (#esl.newgames)
// Your


Admin Team
TeMPe
, Sunday, 19/01/14 05:38


Information:
info write comment not allowed