Archive ESL Europe Europe League of Legends EU West Go4LoL
EU West - Go4LoL #99 - Win 200 Euros!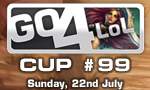 The 99th Cup of the hottest cup series in League of Legend takes place on Sunday. You can win 200 Euros and Riot Points and Champion Bundles.
The top 16 teams also earn ranking points towards the 500 Euros monthly final. Sign up now and enjoy the League of Legends! It's not to late, a good place in the next cups and you play in the monthly final for the 500 Euros!
Sign up now!

(Check-in: 13:40 - 14:00 CEST)
Check-in is first come, first serve.
Be there on time to make sure you do not miss out!

Sign up until 13:40 CEST
Date: Sunday, 22nd July
Start: 14:00 CEST
Size: 256/512 teams
Structure: Single Elimination

Basic rules:

Maps: Summoners Rift
Teamsize: 5on5
Mode: Best of One
Draft Mode:Draft Mode

Beginners guide to sign up:

Register on ESL
Enter your LoL Summoner Name (e.g. Big King)
Enter a contact method (MSN, Skype, IRC, etc.)
Click the sign up link!




See the cup information page for more details
Additional Prizes for Go4LoL West
| | |
| --- | --- |
| 1. | 15 € + Champion Skin Bundle* |
| 2. | 15 € per Player |
| 3. | 10 € per Player |
| 4. | 5 € per Player |
* Champion Skin Bundle - the most recent Champion with his release skin.
Cup Rules

Player Disconnects:
After the disconnect of a player the game will continue. He has to return as soon as possible back to the game and continue playing.

Pause function:
Go4LoL has to be played with the
Draft Mode
, in the case you play your Go4LoL match with the
Tournament Draft Mode
is it forbidden to use the pause without an obvious reason like a player disconnect.
In the case a player disconnects, is it allowed to use the pause after a short warning in all chat. In all other cases have both teams to agree to a pause of the game in all chat.
To unpause a game is only allowed if both teams agree to in all chat.
Abuse of the pause can lead into a disqualification.

Lineup:
Please enter a lineup for each match.

Screenshot upload duty:
A screenshot of the end of each match has to be uploaded after the end of each match.
Your


Admin Team


Information:
info write comment not allowed