Archive ESL Europe Europe League of Legends Go4LoL
Go4LoL as LCS Qualifier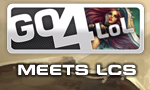 Go4LoL this Sunday will be the final qualifier for the Go4LoL Crossrealm Tournament, featuring €15,000 prize money and two slots for the LCS May Promotion Tournament. This is your team's chance to make into into LCS for the Summer Split and maybe even make it to the World Championship.
Gather your team and join hundreds of others for Go4LoL Sunday. Go4LoL is the worlds biggest weekly cup series in League of Legends, taking place every Sunday.
Go4LoL Europe West begins as always at 14:00 CEST
and
Go4LoL Nordic and East at 15:00 CEST
. You can find all all the important information you need below.
Go4LoL Crossrealm Tournament Details
The Go4LoL Cross Realm Tournament has prize pool of €15,000 and two slots for the May Promotion Tournament into the European LCS, which will take place next Wednesday, 10th April beginning at 17:00 CEST.
ESL TV
will show the semi finals and grand final of the crossrealm tournament.
Jason Kaplan
and
Riot qu1ksh0t
will be the hosts of
the tournament show
beginning at 19:00 CEST.

Reason Gaming.Go4LoL
,

Renekton Bots
,

Sinners Never Sleep
&

n!faculty
are already qualified for this "best of three" single elimination tournament. We're looking forward to Sunday find out who else will join them.
In the case you have questions about Go4LoL or have problems with signing up, please open a
support ticket
or check out our Go4LoL Portal at
www.go4lol.eu

No comments yet.

Information:
info write comment not allowed