Archive ESL Europe Europe League of Legends Go4LoL
Go4LoL meets LCS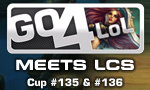 The upcoming two Go4LoLs in EUW and EUNE will be qualifiers for the May Promotion Tournament into the European LCS with a 15,000 Euros cash prize on top. Qualification will consist of two stages: the regular Go4LoL cups followed by a final tournament with eight teams.
The two top teams of the upcoming Go4LoL #135 (March 31st) and Go4LoL #136 (April 7th) in EU West as well as EU Nordic/East will be invited to a final Go4LoL cross realm qualifier tournament with a prize pool of 15,000 Euros and two slots in the May Promotion Tournament into the European LCS.

Go4LoL EU West #135 / Go4LoL EU NE #135

Go4LoL EU West #136 / Go4LoL EU NE #136
---

More information & rules of Go4LoL visit: www.go4lol.eu
Go4LoL is the worlds biggest weekly cup series in League of Legends and takes place on Sunday. You can win every Sunday with your team 300 Euros and Riot Points. The top 32 teams also earn ranking points towards the 500 Euros monthly final. Sign up now and enjoy the League of Legends! It's not to late, a good place in the next cups and you play in the monthly final for the 500 Euros!
Go4LoL Europe West begins always at 14:00 CEST
and
Go4LoL Nordic and East begins always at 15:00 CEST
. You can find all needed infos about a Go4LoL cup in the Go4LoL announcement news.
In the case you have questions about Go4LoL or problems with the sign up please open a
support ticket
or check out our Go4LoL Portal at
www.go4lol.eu
Best of luck!
Your


Admin Team


Information:
info write comment not allowed