Archive ESL Europe Europe League of Legends Europe
European Challenger Circuit: Poland finals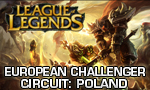 On 28th & 29th July 2012 the Grand Final of the European Challenger Circuit will be held in Warsaw. The best teams from all over Europe will arrive to play in a competition with $40000 in the prize pool! Amongst 8 teams in the finals we can see 3 teams from Poland that qualified through both Polish and European qualifiers. Below you can find all the information about the groups, schedule and the Free Gaming Area. Sounds interesting? Let's go!
You have to wait few more days until to see the best 8 teams who qualified to Warsaw. As mentioned above, they will compete to gain their share of $40000 and the title of
European Challenger Circuit Poland
. We believe the amount of money and glory which can be won will surely provide us games on the highest level. All of the teams want to do their best but who will it be? You can find it out live on Stream or join us at
Multikino
, Zlote Tarasy Street: Zlota 59,

Warsaw. Everything else is described below.
Tournament Structure of the European Challenger Circuit Poland is quite simple. All group matches will be played in the Best of One system. Two first teams of each group will advance to the playoffs, where they will play in Best of Three system.
As you can see Warsaw will host a tournament with many great European teams. Winners of the biggest tournament across the globe will participate in this event. Apparently,

CLG.EU
,

SK Gaming
and

MoscowFive.BenQ
are the favourites of this tournament, however, Polish teams are known on the European scene so hope to see Polish flag on the podium.
European Challenger Circuit Poland Schedule
Free Gaming Area
During the European Challenger Circuit Poland will be give you an access to Free Gaming Area where visitors will be able to play League of Legends. What will be happening there?
You can play versus employees of Riot
You can play versus professional players (including ex Fnatic player Maciej "Shushei" Ratuszniak)
Give away of Riot Games gadgets
Follow the news appearing on the official tournament page, which is available here. We invite all fans to Warsaw on 28th & 29th July. Anyone can be part of this great event. Everyone who is going to arrive may join our Facebook event. By the way, entry is free.


Information:
info write comment not allowed