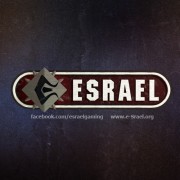 back
e-Srael is the biggest multigame clan in Israel. In most of the played games, our team is unanimously considered as the best by the community (Counter Strike 1.6, Counter Strike Source, Trackmania Nations, Team
Fortress 2, Unreal Tournament 2004 & FIFA).

We are well known as pioneers on the israeli gaming scene, but we work to federate the entire community in order to ease the communication between the different actors and help everyone to reach their target.

We also offer our services to every company who wants to reach the heart of these weird gamer people. We generate two communication streams:

From the community to the real world
Understand the needs or may even create them

From the real world to the community
Spread advertisings, help for commercial actions, simplify communication

Electronic sport is a parallele world with an huge and starved audience:
Like it's done in every sport, we provide them with champions.

Latest world wide events:
WCG - 2003, 2004, 2008.
CPL - 2005, 2006.
ESWC - 2005.