3on3 Opening Cup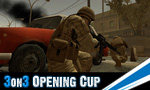 After introducing the ESL Premiership and the 5on5 Ladder (with an optional 6on6 mode), we are proud to announce a new Insurgency tournament: the 3on3 Opening Cup.
The map pool will be
firefight only
and the tournament tree will have 32 slots.
So sign up quickly to be able to play in this cup. The sign ups are open from 15th March until 24th April 2009. The cup itself will start a few days later on the 29th of April. So each of you should have enough time to get ready!
You will have the chance to compete against the best teams in Europe to show you skills and superior tactics.
Signup
Registration begins: 15/03/09 18:00
Registration ends: 24/04/09 18:00
The first matchdays will be:
-> 1st Round : Wednesday, 29/04/09 20:30
-> 2nd Round : Monday, 04/05/09 20:30
-> 3rd Round : Thursday, 07/05/09 20:30
-> Semi Finals: Monday, 11/05/09 20:30
-> Finals : Thursday, 14/05/09 20:30
Specific rules


Each round there will only be played one fixed map.


You can decide how many rounds you want to play on a map. You can vote HERE.


If the result of the match is a draw you need to play a decision round. The first decision round is played on the same sides like the last legal round. If it is a draw you change sides for another decision round.


On some firetype maps you will not automatically draw a match after 15 minutes. In the ESL 3on3 Opening cup the match is drawn after 15 minutes without a winner.


Mappool ordered by rounds:


ins_Haditha


ins_Ramadi


ins_Hillah


ins_Abdallah


ins_Samwah_day


Prizes
| | |
| --- | --- |
| | 3on3 Opening Cup |
| 1st | 3 months |
| 2nd | 2 months |
| 3rd | 1 month |
| | |
At this point, I'd like to remember you to avail yourself of the opportunity of getting prepared by ESL gather matches and, of course, the 5on5 ladder.
Stay tuned for further information.
Your

Insurgency Admin Team


Information:
info write comment not allowed