"Look forward for a great 2009 year"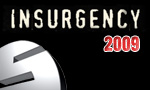 We talked to the project leader of Insurgency, Pablo 'Dr. Spielmann' Dopico, what we will have to expect by the game developers for 2009. Read below what he thinks about the ESL, new maps and the release of Beta 3.
Insurgency Trailer
For the ones who haven't heard about Insurgency yet, it's a total conversion based on Valve Software's Source Engine and was voted for best mod worldwide in 2007. Since last autumn, it's also available on Steam - for free. So, if you haven't got contact with Insurgency yet, you really should check your "My games" list at Steam. Here's a short preview on what you will have to expect.
The Interview
Goalgetter: Hello Pablo. First, I'd like to thank you for your time doing this interview with me and to congratulate you to an outstanding mod you are developing with your team.
Dr. Spielmann
: Thanks to you. It's because of your support that this mod is evolving and still in development after five years.
Goalgetter: Tank you very much. I think it`s a give and get.. You are 32 years old and living in Madrid/Spain. What is your job in private life?
Dr. Spielmann
: I work for Electronic Arts as an Assistant Localization Producer and when I finish working I go home and coordinate the development of Insurgency: Modern Infantry Combat. I actually find working on INS relaxing, it's something that helps me a lot on my daily work at EA. Thanks to the INS development experience I've learned an awful lot about all aspects of videogame development - things you sometimes do not learn in a professional studio (because there you have to focus on one particular aspect of a game - whether in INS I have to do a little bit of everything).
Goalgetter: So let's talk a bit about Insurgency itself. How raised the the idea and the concept of Insurgency in its origin?
Dr. Spielmann
: It all started about five years ago already. A group of very talented people, the original founding members of the INS team, gathered online and started laying out the foundations of an online multiplayer first person shooter based on the Source engine. This initial concept had quite a few characteristics that remain today in Insurgency: Modern Infantry Combat. Things such as a reduced, unobtrusive HUD, 1 shot-1 kill dynamics, freeaim, and a contemporary setting, lack of crosshair, etc. However, it took quite a long time to have a working game and the team evolved quite a lot - although some veterans from the early days still remain in the team.
Goalgetter: How and when did you get in touch with developing Insurgency?
Dr. Spielmann
: Like many other people, I first heard about Insurgency in the Summer of 2007. That was the time when INS popularity exploded, with the first public releases. I was impressed by the mod's potential and its degree of professionalism. So I joined the team as a public relations person around August 2007. Shortly afterwards, when I was appointed project lead of the mod we started a slow but steady reorganization. We needed to sort many things out, both internally and in the actual mod. We also started setting ourselves new goals and a release schedule. That process took us, release after release, to stability improvements and consolidation of the game, which made possible obtaining the awards we got in 2008, being selected by Valve as one of the few Mods to be made available on Steam and being downloaded by more than half a million players during last year. Something that, in turn, made possible to consolidate the game as a viable option for leagues such as the ESL.
Goalgetter: That was the time I also got in contact with Insurgency. I will talk to you about the Steam release, which was an amazing boom, after a few questions about general stuff. Why was this style (Iraq/Afghanistan) chosen for Insurgency?
Dr. Spielmann
: There was a variety of reasons: first it was a modern conflict, but at the same time generic enough. Insurgency doesn't talk about any war in particular, and thanks to this setting we were able to implement the kind of weaponry we wanted to use. It also helped a lot in creating its powerful aesthetics. However, from the very beginning INS was created with the idea of implementing several theaters of war. We chose to focus first on the Middle Eastern setting, but we're currently working on other conflicts.
Goalgetter: This year, there was a big discussion about 'shooting-games' and the violence aspect in it in the media and among politicians in germany. What do you think personally about that?
Dr. Spielmann
: I think that the responsibility belongs, first, to the parents. If you have children you have to keep an eye on what they do. Software companies have the responsibility of properly displaying information about the game's contents, including age restrictions and ratings. We, as a mod team, consider Insurgency to be a +18 game and therefore we have always encouraged that it should only be played by mature people. I think that modern videogames have the possibility of depicting violence in a very explicit way, particularly when that violence can be generated by the player. However, rating systems and personal responsibility are more than enough to guarantee a healthy balance. I'd like to use an example here: You have ratings, and agencies evaluating the games, a lot of industry self-control and responsibility, many laws (such as the German softening laws), etc. However, you can go to your local mall and see kids playing Call of Duty 5 (a +18 game) on any department store. The parents don't care, the shop staff don't care or are too busy to do anything. Yet the kids are playing a game that displays mutilations and blood and no-one seems to bother. But this same people complain later on and demand more government regulation. When, clearly, it's not about government regulation, it's about assuming your personal responsibility on your kids' education. So I see a lot of hypocrisy about this topic.
Goalgetter: This is true. Another thing Pablo. I've heard that EA is cutting back on jobs. Is that true and are you afraid of maybe losing your job?
Dr. Spielmann
: I do not comment on any work-related topic - only INS stuff ;-) There's plenty of information about that in sites such as Gamasutra and plenty of official press releases from EA that I think explain very clearly what is the current situation and prospective future. I'm really proud of being part of EA particularly at a time when our effort for creating better, innovative and original games has been universally acknowledged.
Goalgetter: You told me about your role in the Insurgency developers team as project leader before. But what is your daily assignment exactly?
Dr. Spielmann
: From creating and maintaining the design documents - compiling the ideas and contributions of all the team, to establishing milestones and supervising their progress, assigning tasks, maintaining the external communications of the team. Lots of internal mediation and moderation and frequently hands-on work from the occasional 2D art (some overhead maps, for example) to weapon scripts - I played quite an important role in the final behavior of the weapons and the evolution from 2.0 to 2.x. Many times my task is to supervise or generate discussions and extract conclusions - in order to evolve whatever needs to be evolved and set the overall roadmap. Or I find someone to do it, haha (which means pestering others to do it).
Goalgetter: Besides your private life and the "two" jobs you have, do you have time to play Insurgency?
Dr. Spielmann
: I do... not as much as I would like to, but I do. I do play frequently the non-released version and occasionally the released version. I played 2.x a lot right before and after the Steam release to make sure it was what we wanted... and I enjoyed it a lot. The fun we had those days was the hint I needed to know that it would be a success on Steam - as it turned out to be later. However, between releases I frequently stop playing in order to work on other things.
Goalgetter: Do you have a favourite INS-map?
Dr. Spielmann
: Not really - I play all of them. When I started playing INS, Baghdad and Almaden were the ones I played the most. I also enjoy Buhriz and its open setting, Ramadi, Samawah... I think all of them offer something special, whether it's close-quarters frantic action or deep tactical (and slow-paced) encounters... all have something interesting that sets them apart from other games' maps. We have had outstanding level designers in Insurgency. Many of them have continued their careers in top-level studios after being INS developers... I think that talent can be seen on their creations.
Goalgetter: For sure, they did an outstanding job. Can you tell us anything about new maps for 2009?
Dr. Spielmann
: We're focused on the new theatre, but we will also release one or two new maps for the existing theatre. One of the environments I want to recreate in INS is a muddy and foggy afghan town environment... with reduced visibility that poses a challenge to both teams. Karam is also a very interesting map that is already reaching beta status. It's visually stunning and it offers more outdoors fighting, with dry river beds, ridges and several small towns. So I think you can look forward for a great 2009 year. We also would like to release a playable version of Beta 3 during this year, so I'm confident it will be a great year for INS players.
Goalgetter: This sounds really great. Can you give us an approximate date for the release for one of those maps or the next INS update?
Dr. Spielmann
: Not at the moment - we are currently in the middle of the holidays and we will have several meetings after this break. After that, I might be able to give some more clear dates. As for the maps, I think we will have a map ready fairly soon after the holidays, but whether that's one month, or two, it's unclear at the moment. We will know better in January. I do know, however, that we will have an additional update going live in January through Steam. This update will include an updated version of INS_Buhriz and possibly other maps and some code updates and fixes.
Goalgetter: What is your favourite game (besides Insurgency of course)?
Dr. Spielmann
: That's a very good question... I think my favorite games are the Colin McRae and TOCA series, but I also love the Call of Duty series, Fallout, and The Elder Scrolls: Morrowind. I'm a great fan of graphic adventures (classic and modern) and handheld games such as Animal Crossing. I play (and have played) pretty much anything that I can get my hands upon. This holidays I'm playing The Longest Journey 2: Dreamfall, Midnight Club 2, Mirror's Edge (I worked on it and I truly love it), Spore, Fable 2 and Patapon. Out of all those, the one that has taken more time from me is Patapon, believe it or not. I think it's a wonderful game based on a great, original idea.
Goalgetter: In 2008, Insurgency got a massive boost of players through the Steam release (you already mentioned it before). Are you confident with the amount of players right now and are there any plans to increase this number of players in 2009?
Dr. Spielmann
: An event such as the Steam release is awesome for mods like ours. It brings the player count really high - but it's the leagues and continuous work from our community that keep the player numbers high through the years. We'll provide top-quality content for 2.x that will make it worth to stay playing INS through 2009, while we work on Beta 3. We want Beta 3 to set a new standard for total conversions and we're confident it will be well received by the community. We're committed to creating the best experience on the Orange Box engine and we have a mix of experienced and new talents working on it... with outstanding results.
Goalgetter: The ESL took Insurgency in their European section in 2008. How big is the interest among the developing team in improving Insurgency for league play?
Dr. Spielmann
: It's one of our key development areas and we'll be happy to hear any feedback you might have - areas you need to improve or suggestions for future patches. We have been paying attention to those suggestions in the past and we'll continue to do that in the future. We're very aware of the importance of leagues and ladders and, well, some of us have been players in ESL leagues and ladders in the past :D
Goalgetter: Do you think INS has any future espacially in the esport section with CSS or the COD series which are developed by big studios who earn money for it?
Dr. Spielmann
: I think that it's too early to tell - future versions of INS will probably bring up the player count up a notch. It's difficult to compete against things like CounterStrike, but I think we can provide a mature multiplayer alternative. I think our game will appeal to fans of CoD and Battlefield that find the current offerings of these sagas either outdated or too "arcadey" as well as players that get tired of playing CounterStrike over and over... Let's see what the future holds for us!
Goalgetter: A big problem not only for the competitive play, but also on public servers, is the spawnkilling. Are their any ideas by the developers to solve this problem?
Dr. Spielmann
: Yes. Beta 3 - and we will introduce whatever can be ported into Beta 2.x as well - includes a new anti-spawnkilling design.
Goalgetter: Wow...
Dr. Spielmann
: This design will make spawnkilling virtually impossible. This system involves a mixture of map-related obstacles and "hot zones" that prevent enemies from accessing spawn areas and "sensitive" areas from where spawn zones can be raped. So enemies won't be able to stay on those hot areas - effectively preventing spawnkilling. All this system is designed in a way that feels natural and non-intrusive: there are no unnatural obstacles, invisible walls, or artificial limitations. It will integrate itself seamlessly with the gameplay.
Goalgetter: Do you also play custom maps?
Dr. Spielmann
: Very rarely I play custom maps - only when they're candidates to become official maps or when the level designer is being interviewed to be part of the team. However, we have people that keep an eye on custom maps regularly. Have you discovered the Easter Egg in Haditha?
Goalgetter: I`ve read about that in the forums, but haven't seen it ingame. I`d really like to play Ins more often, but most of the time I`m online, I have to do organizing stuff.
Dr. Spielmann
: We're confined to administrative and coordination work!
Goalgetter: It seems so. Why did you name yourself "Dr. Spielmann"?
Dr. Spielmann
: That's a very, very, very long story. I studied a PHD in history and economics and I'm writing my doctoral thesis - hence the "Dr." - that was a nickname I got when I was doing research in Cracow, Poland. Spielmann means player in German, as you probably know, better than me ;-) So Dr. Spielmann pretty much reflects both of my life interests: History (and particularly Central European History) and Videogames.
Goalgetter: What do you do this evening after the interview?
Dr. Spielmann
: Me? I'll log in to the INS forums, check out how people are enjoying their holidays, and probably go play some games! This is the only time I've got to catch up with my games collection. I have this strange tradition: I cannot buy the second part of a game until I finish the first part. So I have to finish Resistance and Gears of War before I can buy the new additions to the franchises. (and finish all my pending graphic adventures before I am allowed to buy new ones) :D I'm also writing the script for a platform game, and a few short stories - so I have to catch up on that too. I think the evening is fully booked already!
Goalgetter: Well, then I don`t want to catch more of your time. I wish you great success with your team for the new year and again thanks a lot for your time to do this very open and personal interview with me.
Dr. Spielmann
: No worries! Thanks a lot to you and the ESL for your help and efforts... you are key to the success of Insurgency.


Information:
info write comment not allowed