5v5 Firefight Ladder Opening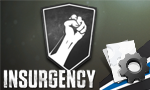 We are proud to announce our new 5v5 Firefight Ladder! After two Testcups we finally open our Ladder, so gather your friends and join! Please read this news carefully, to prevent any problems.
We are still open for feedback so please share your opinions via news comment or forum!
Make sure you fulfill the ladder restrictions before you sign-up. You can challenge other teams or use our matchmaking system. Feel free to
check the Matchmaker FAQ
.
5on5 Firefight Ladder




Sign up now!




Serversettings
Restrictions
» At least 5 valid Insurgency Gameaccount´s per team


Add your Gameaccount
» Team Logo & shorthandle


Create a Team
» ESL Wire for each player


Map-pool
Contact
Heights
Market
Ministry
Peak
Siege
District
Support & Help
For any question, doubt, perplexity, feedback and advice, please contact the Admin Team. Feel free to open a Support Ticket!

Your


Admin Team
Face
, Friday, 07/03/14 09:49


Information:
info write comment not allowed