ICQ Cup FAQ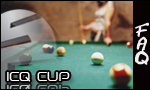 Time and time again we have any problems during a cup. That we can give you a better support we created a lil Cup FAQ for you.
All cups, really
every
cup will be published in a seperate news at
www.esl.eu/eu/icq_games/
. There you can find all important informations (dates, rules, gamemod, timetable or special infos) about this cups.
Because in a cup there can always be changes (lobby has to be played, rounds will be played earlier, .. ) you must always (at least as the cup is still on) come to us in IRC in Quake net
#esl.icq.cup
. Here you will find the most important information in the topic of the channel resp. you will always find admins here or other experienced users that can help you with your problems.
We have to point out again that official statements from us will only be done in IRC or in a news update.
So let´s start:

The server is down, what shall I do?
When the server is down (
exclusively at cups
), you should watch the IRC channel. There we will announce if we play at the lobby or if we have to shift or cancel the cup. If one of the two last cases occur, this will be announced in the news and the news topic will be changed. (f.e. *update* or sth.)

What´s the "Lobby"?
The Lobby is the web based solution of ICQ pool. Notice that there are two different links, that lead to the same Lobby.
-
link for Internet Explorer
-
Firefox link
Here you can always find opponents in the whole world outside of the ESL. But pay attention please: you can only play in the lobby with our permission!
During the normal competition this is strictly forbidden!

What do I have to pay attention to at the lobby
At the lobby the problem is that you can see only a limited amount of tables. That is why you must always have the same score to find each other. That is why you have to make a new account each match (per game). The lobbynick should similar to your esl nick. You have to create an account, write each other the names in ICQ and then you have to make a screenshot of it.
"Nick status screen"
.

How do I make screens of the lobby?
That's easy. Open the lobby link in a new window and the ESL-page in an other one. As soon as you sit on the right table in the lobby and the matching can start, you can drag the window on the size of the pool table. The window is almost the same size as the ICQ Pool and you can place this window over the ESL window.
(
Example
).

My opponent isn't here, what do I do
After the assignment of an opponent you should try to contact him. If he is not on ICQ, he doesn't write back or he doesn't add you, you will have to wait
10 minutes
for your opponent (this time can be changed a cup specifically, if this is the case, this will be announced in the news). If he is not there, you make a screen from the failing of the contact with the following items: ESL Page in the background, the failed ICQ MSG to the opponent, his User details, task bar. (
Example
)
Than you upload this screen at the match, you write a match comment or even better a report that the opponent did not show up and then you wait or you contact us in IRC. In general we check every match and give you a Defwin.
If the opponent shows up after the deadline and we have not registered this yet, you don't have to play if you don't want to. But if you do, this means that you will have to delete the report before the match begins.
Please don't enter that the opponent didn't show up, otherwise PPs has been given which we will have to delete again later.

What do I do by problems concerning the cup?
You can always write a support. If it is an urgent thing with influence on the process (problems with your opponent, failure with the registration) you will have to come in IRC and describe your problem in the channel. Than we will help you.
If none of the admins answer, you may (only during a cup) highlight or slap an admin. Please no qry´s or ICQ messages. Most of the time we play ourselves or are busy with other things. In the channel the admin that has time for it will take care of you.

Which Admin can I contact?
In general you can contact any admin in the channel (only in the above mentioned way). Our IRC nicks are made in a way that you can see who is there and who is not. Either they have an "off" or "weg" in the name or the nick is completely written in capitals. The admins that are written in small letters should be there. If you don't have experience in the IRC, you can always recognize admins from a resort in the list with an "@". People with "+" are ESL Admins from other resorts.

My name is not shown in the cup / I can't see my opponent during the match!
This is only a cache bug. Just push Strg+F5 and Strg+r, than the browser cache should be deleted and everything should be displayed correctly.

All through I won but my opponent moved further in the tournament tree!
This is a fatal error. There has been a registration fault and the cup must be calculated again. In this exceptional case you are allowed to contact redcap.tm, Gen.kp or sm00th per highlight/query. This can only be done by MLA´s and must be solved as soon as possible.
We hope this will be a good help for you.
Your

Admin Team


Information:
info write comment not allowed