Team Ladder Opening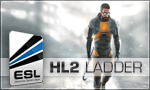 2on2? 3on3? 4on4? you can decide in our Team Ladder! Our new half life 2 team ladder is open to play. Just join with your team and play!

Half-Life 2
- Team - Ladder Opening
Half-Life 2 Team Ladder
Ladderdetails
Start: now!
Rules: read me
Signup: here
Offical Half-Life 2 - ESL IRC Channel:
- #esl.hl2 (Quakenet)
- Meet your opponent.
- Match- & Opponentsearch.
- Questions around Half-Life 2 & ESL.
- Help around Half-Life 2 & ESL.

Restrictions:
- Using cheats/hacks/scripts is forbidden.
- Playing with STEAM_ID, different from your profile is not allowed.


Aequitas & Demo:
Each player will have to run Aequitas during his match and upload the archive at the end of the match.
You also need to record a demo of each match.
The
Admin Staff wishes you a lot of fun!


Information:
info write comment not allowed