Archive ESL Europe Europe Hearthstone
The Tt eSPORTS Winter Challenge Cup #3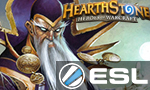 All good things are 3! So here it is! The 3rd cup out of the Tt eSports Winter 2015 Challenge! Go sign up for the cup and be a part of it! This cup will start on Sunday, 18th January. Did you already know that we have new prizes for the Tt eSPORTS Winter Challenge Cups!? Tt eSPORTS Winter Challenge
Every Sunday you will get the chance to win great hardware prizes. Prepare your deck, sign up for the first Winter Challenge tournament and check out the prizes below.
The prizes powered by Tt eSPORTS

First place:
Ventus Mouse
The VENTUS ambidextrous laser gaming mouse is designed specially to fulfill the needs of both left handed and right handed gamers, this gaming weapon is the ultimate tool to enhance your gaming skills and place you at a perfect winning position.
Product information

Second place:
Shock Headset
Keep your friends close and your enemies closer with pinpoint audio locations featured in the SHOCK headset.


Product information

Third place:
METALCAPS (WASD; QWER or Arrow keys + ESC)
The METALCAPS accessory offers mechanical keyboard users a fun way to customize their mechanical keyboards with a metallic feel. The METALCAPS will fit on most mechanical witches with a cross shaped stem, such as Tt eSPORTS Certified Mechanical switched and Cherry MX switches.


Product information
Each prize can only be won once per player. If a player wins the tournament, they can choose between the three prizes. After their choice, the second place can choose. If you reach the top 3 multiple times, you can only choose from prizes you have not yet won. When you have already won each prize, the prize goes to the lottery pot.
Winter Challenge Final
Every Sunday you will get the chance to win great hardware prizes and ranking points for the big season final tournament.
Followed by the big Winter Challenge final, inviting the top 16 players from the
ranking. The best 3 players from the final will win prizes from
Tt eSports
which we will reveal later.
Lottery pot
Each prize can only be rewarded once per player. When its not possible to exchange the prize because you already won everything, the prize goes to the lottery pot. At the end of the Winter Challenge will we raffle all prizes in the lottery pot to all participants from the Tt eSPORTS Winter cup series.
Tt eSPORTS Winter Challenge cup #3

Sign up now!

Date: Sunday, 18th of January
Start: 16:00 CET


---

Get your decks ready!
The Tt eSPORTS Winter Challenge is powered by
Dobby
, Thursday, 15/01/15 16:55

No comments yet.

Information:
info write comment not allowed