Archive ESL Europe Europe Hearthstone: Heroes of Warcraft
Tt eSPORTS Autumn Challenge Cup #2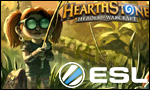 This Sunday's cup will be played again in the brand new ESL Play website! We're very happy about the amount of players in the first Autumn Challenge Cup and we would love to have even more! Join us and have fun this Sunday on ESL and Hearthstone!
What are you waiting for? Prepare your deck, sign up for the Autumn Challenge Cup #2 and check out the prizes below.
The prizes powered by Tt eSPORTS

First place:
Shock Headset
Keep your friends close and your enemies closer with pinpoint audio locations featured in the SHOCK headset.
Product information

Second place:
BLACK Element Gaming Mouse
The BLACK ELEMENT gaming mouse is a stylish ambidextrous laser gaming mouse. With a powerful laser sensor, programmable macros, selectable color lighting choices, as well as a configurable weight system - you can't go wrong with the BLACK ELEMENT gaming mouse..
Product information

Third place:
METALCAPS (WASD; QWER or Arrow keys + ESC)
The METALCAPS accessory offers mechanical keyboard users a fun way to customize their mechanical keyboards with a metallic feel. The METALCAPS will fit on most mechanical switches with a cross shaped stem, such as Tt eSPORTS Certified Mechanical switched and Cherry MX switches.
Product information
Each prize can only be won once per player. If a player wins the tournament, they can choose between the three prizes. After their choice, the second place can choose. If you reach the top 3 multiple times, you can only choose from prizes you have not yet won. When you have already won each prize, the prize goes to the lottery pot.
Autumn Challenge Final
In each weekly cup you can earn ranking points like in our Go4 tournaments. The better you do, the more points you win. In January will we have a big Autumn final, inviting the top 16 players from the ranking. The best 3 players from the final will win the
Verto Headset
.
The VERTO headset offers strong styling paired with comfort. The head band design is auto adjusting to get the right sizing for anyone who wears it, and protein leather ear pads maintain comfort even over long hours of use. The bold geometric design is strong enough for gaming yet sophisticated enough for in-office use.
Product information
Lottery pot
Each prize can only be rewarded once per player. When its not possible to exchange the prize because you already won everything, the prize goes to the lottery pot. In January 2015 we raffle all prizes in the lottery pot to all participants from the Tt eSPORTS Autumn cup series.
Tt eSPORTS Autumn Challenge cup #2

Sign up now!

Date: Sunday, 14th of September
Start: 16:00 CEST


---

This Sunday's cup will be played again in the brand new ESL Play website!
The Tt eSPORTS Autumn Challenge is powered by
TeMPe
, Thursday, 11/09/14 10:36


Information:
info write comment not allowed