Archive ESL Europe Europe HaxBall
Haxball on play.ESLgaming.com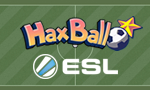 We are happy to announce that the HaxBall section has been moved to the brand new play.ESLGaming.com website. There are only slight changes affecting the current working of the section.
Easier and more user friendly
We want to make life easier for you with the new website and that's why a lot of things have changed. The most important one will be the sign up process to a tournament, ladder or league. Create a team, sign up and more, all these features are going to be found in the same page. Cups and ladders can be found under ESL Open in the menu.
Questions & Support
We are always happy to get your feedback about our competitions as well as the new website and the best way to tell us what you think is the newly created forum. Of course you can open a Support Ticket. GL & HF!
Your


Fun Games Europe
TheM
, Thursday, 04/12/14 09:14

No comments yet.

Information:
info write comment not allowed