Archive ESL Europe Europe Guild Wars
ESL Amateur Series starts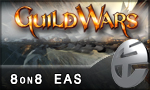 The registration for our first Guild Wars ESL Amateur Series was openend in December, finally we fire the starting shot. We look forward to 20 guilds, which meet the challenge and hope once again for many exciting and thrilling battles. We wish all participants much success and lots of fun!
8on8 ESL Amateur Series
The ESL Amateur Series is a stage between the normal competitions (Ladder, Cups, ..) and the
ESL Major Series
. It includes some features of the ladder and the league system and is therefore really unique!
What is the EAS?
(in general) - (
ESL Amateur Series FAQ
)

At least one fixed (mandatory) match per week.

Additional challenges are possible (like in a ladder).

Teams can leave/join whenever they want.

Teams are parted into divisions with the same skill (if there are enough signups - 8/16/32 participants).
Participants
Due to the various strength of the number of participants the EAS will be split into 2 divisions. The 1st Division is a group of 8 participants, the 2nd Division of 16 participants. The respective strength of the teams will playfully identified, including the possibility that guilds get promoted or relegated.

Another Revolution

Backdoor Bravehearts

Bruderschaft der Verdammnis

Dangerous Pumpkins

Everlasting Inability

Straight Outta Kamadan

north.mystic Dispoable Heroes

Societies Outcasts

Steel Phoenix

Coming Out Of Retirement
Virtual Escape

We Are So Mad

Final Uprising

Aurea Mediocritas

Jump in and find out

MondStein Gilde

Wtf Is Skill

Random Euro Trash

Resurrection of Pain

The Smurfers



8on8 ESL Amateur Series

Teamsize:

6-8 players per team (2 guests are allowed)

Duration:

4 months, first game Wednesday 04/02/09

Matches:

2 maps / match (each teams homemap)

Premium:

No ESL

Accounts needed for the Guild Wars EAS.

Signup: open




1. Place

8x Razer Mouse (Guild Wars Edition)
8x Guild Wars Shirt
8x Guild Wars Statue
8x Guild Wars Complete Edition *





2. Place

8x Steelpad QcK+ XXL
8x Guild Wars Shirt
8x Guild Wars Complete Edition *



3. Place

8x ESL Basecap
8x ESL Bag

* the Guild Wars Complete Edition has been signed by Martin Kerstein!

The mandatory match will be generated for every weeks
Wednesday
. You are allowed to postpone this match if your opponent agrees.
Official Partners
//Your


Admin Team
otacon
, Friday, 30/01/09 14:05


Information:
info write comment not allowed