Archive ESL Europe Europe Guild Wars 4on4
4on4 Autumn Cup 2008: Winners and prizes!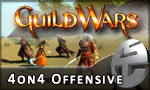 Yesterday evening the final of our Guild Wars Autumn Cup 2008 took place. We are glad to congratulate the 3 best teams for their excellent performance and to present them their deserved prizes. The winner of the cup is "Whats Going On [sup]", congratulation on this great 1st place!
Winners
Prizes
1st Place

4x Saitek Cyborg Keyboard
Get the best gaming equipment there is. The new Saitek Cyborg keyboard features adjustable backlighting, touch-sensitive control panel and programmable gaming keys, taking gaming performance to new levels, improving control, heightening your senses and helping you realise your true potential.

More Information: Saitek Cyborg Keyboard


2nd Place

4x Saitek Cyborg Mouse
The new Saitek Cyborg Mouse is a fully-featured, adjustable, laser gaming mouse with 3200dpi for ultra high speed and accuracy.

More Information: Saitek Cyborg Mouse


3rd Place

4x Official ESL Bag
4x ESL Cap Enhanced - Navy




Official partners


//Your


Admin Team

No comments yet.

Information:
info write comment not allowed