Archive ESL Europe Germany Guild Wars
Der 6. Spieltag beginnt!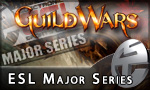 Die Hälfte des Weges zu unseren begehrten Offline Finals in Köln haben die Teilnehmer bereits hinter sich gebracht und es sind immernoch 10 Teams vertreten. Nach einer Umstrukturierung wird die Gilde Don't Mess With The Don fortan als Goldcape Or Ragequit weiter an der EMS Season III teilnehmen. So freuen wir uns auch an diesem Spieltag wieder auf eine Menge spannender Spiele und wünschen den Teams viel Glück und viel Erfolg.
Spieltag 6
Hier ein Überblick der ESL Major Series Spiele in Guild Wars. Die Entscheidungsmap in dieser Woche ist die
Jadeinsel
.
09/10/08 20:00


Whats Going On vs. Straight Outta Kamadan
Details
09/10/08 21:00


Steel Phoenix vs. Revive Teammates
Details
09/10/08 21:00


Bruderschaft der Verdammnis vs. Anonymous Amateurs
Details
12/10/08 20:00


Rebel Rising vs. Stealing Society
Details
12/10/08 20:00


We Want Cookie vs. Dont Mess With The Don
Details
Eine Übersicht aller bisherigen Ergebnisse könnt ihr
hier
finden.
Offizielle Partner


//Your


Admin Team


Information:
info write comment not allowed