Archive ESL Europe Europe Guild Wars
4on4 Opening Cup: Winners and prizes!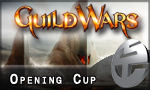 The first cup of the reopened Guild Wars section has already been finished some time ago. Today we want to present you the final prizes for the three top teams. The overall winner was "Team Eierbär", congratulation to this great performance!
Winners
Prizes
1st Place:

4x Official ESL Bag
4x Guild Wars Pins




2nd Place:

4x SLICKRIDE Mousepad Official ESL Edition
4x Guild Wars Pins




3rd Place:

4x ESL Cap Enhanced - Navy
4x Official ESL Keystrap Red
4x Guild Wars Pins





Congratulations and have fun with the prizes!
There is another 4on4 Cup coming up this september. Details will be announced soon!
Official partners


//Your


Admin Team
Paddel
, Monday, 01/09/08 09:35

No comments yet.

Information:
info write comment not allowed