Archive ESL Europe Europe Grand Theft Auto: San Andreas
GTA:SA 5on5 Summer Cup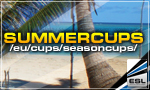 The Summer Cup is going to be 5on5 so search no more if you are looking for some quality matches! Just spend your free-time with your favourite game during the Summer and enjoy the show. The rules and requirements will be explained in this post. Good luck to all the players!

Update:
Due to inactivity, the cup is cancelled. Sorry for the inconvenience.


5on5 Summer Cup 2013

Date: default date is Sunday 21CET


Mode: 5on5 Single Elimination


Links: Global Rules, Wire Portal, Whitetiger's AC


Questions? Forum and Support ticket


Restrictions: Default game

, Wire Anti-Cheat + Whitetiger's AC


Signup:
16.07.13 12:00 - 27/07/13 20:30

Rules

Match Rules
CP time 25
Minimum fps 35
Max ping 350
Max packetloss 2.0
10minutes base time.
No carkilling, helikilling, carbombing, driveby or any of kind!
8 bases(same base for attack/defending) - random arena.
Maximum 2 subs for each clan.
Maximum pause time is 2 minutes.
No gunmenus given after 30seconds of the round.
1 Week to play your matches in each round

Anti-cheat
During your mattch you must have have:
ESL Wire
Whitetiger's AC
Make sure you have Whitetiger's AC running as an admin!

Modifications/cheats
Mods disallowed:
Skin mods
CLEO mods
Objects mods
Any mod makes you laggy.
If any cheats found, it will be shown to public, no exceptions!

Recording
You always need to have a recording program ready to record your gameplay when asked to.
If you can't record when Admins asks you to, you have to remove yourself.

Chat
No flaming/insulting/racism or any of that!
You are signed up to play and enjoy your time, not argue!
All praticpants behaviours needs to be nice and calm
If you win/loss, take it with pride!
English always in the chat, use different chat types for other languages

Faking members/clans
Any fake members/clans found in the cup will be disqualifed and it will be shown to public.
You need to use same name as your ESL Account.

By signing up to the cup, you agree to all the rules!



How to use Check-In

Step 1 - Reservation (green)
Here you can reserve a place in the cup, but you have to confirm your participation later.

Step 2 - Confirmation (yellow)
30 minutes before the cup starts, you have to confirm your participation, if you have done that, you're in the Cup.

Step 3 - Entry (red)
You didn't get a free place in this cup? If there are not enough participants, you can still entering the cup 20 minutes before starting !
Prizes

1st Place

2nd Place

3rd Place
The winner will receive this special Award:

** At least 8 teams must sign up for premium prize, and at least 16 teams are needed to recieve the summer cup reward.
Questions & Support
If you have any further questions, problems or feedback, you can always post in our forum or open a Support Ticket.
// Your


Admin Team


Information:
info write comment not allowed