Introducing Go4Firefall with up to €10,000 every month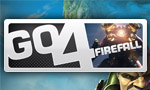 It's time to get serious, Firefall was made for competition and together with Red 5 Studios we'll bring you weekly tournaments topped off by monthly finals after Firefall opened for everyone with an open beta recently. The massively multiplayer, free-to-play shooter gets its own Go4 series: Go4Firefall. Every month we will have tournaments open to everybody with a total prize money of up to €10,000! Prepare yourself for massive Firefall action!
We're very pleased that the people over at Red 5 Studios, the developer of Firefall, understands what eSports and Go4 stands for. They will support Go4Firefall, helping us to make the tournaments as awesome as possible.
Starting on August 4th, every single Sunday of a month we will host a cup, that grants you the possibility to score points with your team for the monthly ranking. Depending on the number of participants the top teams of these cups will score points in addition to the €1000 winning fee to the teams that came out on top.
In the monthly final the best eight teams will fight for the trophy and €5000 prize money. The winner takes the biggest share which is €3000. So the competition here will be very tough. In the next month, all teams once again have the same chances to play and qualify for the finals and win their share of the prize money.
Quick Facts:
One cup every Sunday of the month
The top 16 teams of each cup score points
Top 8 of the ranking qualifies for monthly finals

Prize money:
Weekly Go4Firefall Cup: 1st Place: €500 - 2nd Place: €300 - 3rd Place: €200
Go4Firefall Monthly Finals: 1st Place: €3000 - 2nd Place: €1500 - 3rd Place: €500
Total prize money per month: up to €10,000

First Go4Firefall Cup: Go4Firefall #1 on Sun, 04/08/13 09:00 EDT

Game mode - Jetball 5vs5
Jetball is a new objective-based eSports mode where two teams of five players compete for victory by flying or shooting a high-tech ball through their opponent's goal. Because players can't defend themselves while carrying the ball, teams must rely on passing and coordination, strategically using each Battleframe's unique weapons, abilities and maneuverability to score.
Sign up
Sign up now!

(Check-in: 16:40 - 17:00 CEST)
Check-in is first come, first serve.
Be there on time to make sure you do not miss out!

Sign up until 16:40 CEST
Date: Sunday, 04th August
Start: 17:00 CEST
Size: 16/32 teams
Structure: Single Elimination

Basic rules:

Maps: Omnidyne-M Prototype Arena
Teamsize: 5on5
Mode: Best of One


Beginners guide to sign up:

Register on ESL
Enter your Firefall character (e.g. Big King)
Enter a contact method (MSN, Skype, IRC, etc.)
Click the sign up link!




See the cup information page for more details
Go4Firefall covered live by ESL TV
Go4Firefall will be broadcasted live by ESL TV. Almost every week you will enjoy the most exciting matches presented by Lauren 'Pansy' Scott at the ESL TV Studio. Lauren (
@TheyCallMePansy
) began her journey within eSports at a young age, being captivated by the first FPS titles she tried such as Return to Castle Wolfenstein and Enemy Territory.
As the gaming scene began to flourish she took the path to professional gaming within Call of Duty and eventually became one of its more noted casters. From then on she has found it hard to deny the newer titles that still retain that FPS feel such as CS:GO, World of Tanks and Firefall.
otacon
, Thursday, 11/07/13 14:05


Information:
info write comment not allowed