Archive ESL Europe Europe FIFA 14
1on1 Nightcup Season 1 - Playoffs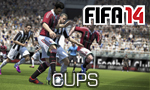 After 7 weeks passed and 20 Cups played, we are glad to announce the 8 players qualified for 1on1 Playoffs. Below, you can see the most valuable players who managed to achieve those necessary points.
After the Cups, the Top8 is as well:
BRACKET - Playoffs
| | |
| --- | --- |
| | Prizes |
| 1º | 3 Months ESL Premium |
| 2º | 2 Months ESL Premium |
| 3º | 1 Months ESL Premium |
| | |
Why Premium ?
No advertisement
Active support of league
No waiting time at Gather
Awards
Start Gather with ESL Wire Anti-Cheat
Access to special leagues (f.e. Amateur Series)
Take part in 5, 50 or 250 cups to earn this award. It doesn't matter if you won the whole cup or are knocked out in the first round !

Win 25, 100 or 250 cup matches, to earn this award.


You have to reach the final win the 3rd place match to make progress towards this award. This one is not automatic yet, you need to request it.

The Top 3 players of each cup will have the chance of being displayed on the Hall of Fame - FIFA 14 Section. This one is updated weekly.


Each player, but also each team will receive this award, as soon they are in our Hall of Fame on the first rank. Should a player/team not be first anymore, the award will be deleted and added to the new leader of the Hall of Fame. This means, the award will not remain forever, at least if you are not playing any more cups.




In order to have a chance to reach this brand award, we will continue with loads of cups very soon. We hope you will keep on enjoying our cups and that you will keep on participating.
Support & Help
For any question, doubt, perplexity, feedback and advice, please contact the Admin Team. You can do it with a Support Ticket!

Best regards,
Your,


Staff Europe
#esl.fifa
SLIDE
, Sunday, 22/12/13 07:47

No comments yet.

Information:
info write comment not allowed