Archive ESL Europe Europe FIFA 13
Country Championship 2013 : Groups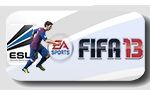 Here we go with the groups for the Country Championship 2013 in FIFA13. Let's play a last team competition before FIFA14. It's now time to discover the groups and the first playday will be Sunday 14/07/2013 at 21.00.
Official Format
Championship Format:
Groupstage + Playoffs
Games:
only 1 war
War Format:
5on5 with 1on1 games (Old format)
Points:
20 points (2 points - win ; 1 point - draw ; 0 points - lose)
Possible final scores:
Win, Draw and Lose
Groupstage:
The 1st and 2nd placed will get the Play-offs.
Playoffs:
The best 8 National Teams will play in Double-Elimination until the Grand Final. In case of draw, the National Team who scores more goals, will be the winner. If you check the same number of goals, each National Teams have to choose 1 player to play a decisive game (only 1 game - you must play whole game. If your players draw this match, you must play in Golden Goal). In the Grand Final, the National Team who got it by Looser-Bracket, need to win twice the National Team who got it by Winner-Bracket.
Teams Sign-up
This is a recap of all teams sign-up with their captain mentionned.
Groups
We have fourteen nations which are going to be placed into four groups (2 of 4 teams, 2 of 3 teams). The top 4 teams from last season (

Poland
,

Romania
,

Germany
,

France
) are to be placed into separate groups. Every other teams are placed like below:
Prizes
The three winning teams will receive a special ESL award, some Premium prizes for their success:
ESL Premium & Awards
| | |
| --- | --- |
| 1st | 5x3 Months ESL Premium |
| 2nd | 5x2 Months ESL Premium |
| 3rd | 5x1 Months ESL Premium |
Support & Help
For any question, doubt, perplexity, feedback and advice, please contact the Admin Team. You can do it with a Support Ticket!

Best regards,
Your,

Staff Europe
#esl.fifa


Information:
info write comment not allowed