Archive ESL Europe Europe
ESL to visit Valve and test Left 4 Dead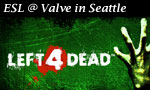 On 18th November the latest creation from Valve hits the shops: Left 4 Dead. We don't need to introduce Valve. Ten years ago they rushed to the top ranks of game developers with the release of Half-Life. This is reason enough to have a closer look at the completely new game Left 4 Dead. We were invited by Valve to have an eyes on preview of Left 4 Dead in Seattle next weekend.
Left 4 Dead is the sixth game of Valve's including Half-Life
, Team Fortress, Portal, Counter-Strike and Day of Defeat. We are especially interested to see whether the game can shine in multiplayer and maybe a new online competition blockbuster is possible.
The special thing about Left 4 Dead is that it is mainly conceived as coop game - an often painfully neglected mode. Additionally the game emphasises playing it again and again. The aim is that no attempt of the same mission should be equal to another. The basis for this is the so-called "director", a kind of artificial and invisible stage director in the background, which challenges the player again and again with adjusted and well-measured masses of zombies.
Zombies? Yep, zombies. This particular type of opponents distinguish themselves not only by the absence of life but also by the appearance in hordes. So you can be prepared for a massive number of opponents who all want to kill you. All well and good but what about the versus mode?
In one week we will bring you the answers after we have played several hours of Left 4 Dea. The following group of gaming experts will travel to the west coast of the United States in the cause of the ESL:
Christian 'Blizzard' Chmiel
German Counter-Strike legend, five-time ESL Pro Series winner, ancestor of mousesports. He finished his professional career this year and is currently working for mousesports as community manager.



Francisco 'Chico' Teixeira
Less known in the scene, but the more experienced computer gamer. He is a freelance editor of the ESL and has played pretty much everything whether on PC or console in the past 20 years.



Jan-Philipp 'Thefly' Reining
Co-founder of ESL, videogame addicted for 20 years, founder of one of the first clans in Germany, long time shooter experience. He plays only a few games (only the very best) longer than necessary as there are so many other good games to play.


Next Thursday the trip from Cologne to Seattle begins. Stay tuned to the ESL for blog entries from the trip!
otacon
, Tuesday, 28/10/08 12:32


Information:
info write comment not allowed