Female SC2 Cups Ladies<3SC2 #02 (1on1)
ESL Female StarCraft II - Sunday May 18th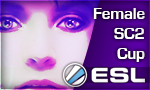 Great news! From now on, female Starcraft II tournaments on ESL are to become monthly recurring events, so you will always have another all-female cup to look forward to! The next one takes place on Sunday May 18th at 5 pm CEST.
As always, these tournaments are open for players from ALL LEAGUES and ALL REGIONS (Note: the cup will be played on EU). We were very happy to have players from Bronze to Master in the last tournament and hope to continue in the same community building spirit!
Find the sign-up page, rules, bracket and other info
here
.
Please note!
Sign-up ends at 4.30 CEST. Check-in is between 4.30 and 4.55 CEST. Voice confirmation on Team Speak is required (an e-mail with the server details will be sent to all registered players on cup day).
Ideas or suggestions?
We do cups every month on Sundays, but we are always willing to do more if there's interest! Team cups? 2v2:s? No problem! So share this with your friends, sign up for cups and let us know what you think. You can leave us a comment in our
forums
. Feedback in general is very welcome as we strive every day to keep the Female scene as active as possible.
Support us on Facebook & Twitter
You can all support us on Facebook & Twitter. Spread the word about our site. We'll always keep you up to date about all our female gaming activities from these sites. You can also send us feedback or questions via message/tweet.


Information:
info write comment not allowed