Archive ESL Europe Europe Female Gaming
Important Specific Cup Rules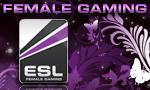 Please read this carefully as we will be enforcing PPS now into teams that have not followed the rules, as this keep a friendly and enjoyable environment for all of our players.
TeamSpeak 3 Server Rules
Before every cup that we hold here in the Female section , we send an E-mail out to every single team that has signed-up for our cup with contains some important reminder information, I understand that if you are new to playing here in our cups that you may not understand how we work so pay attention to the following pointers:
Why do we have to be in the Female Teamspeak3 Server? This section differs from the regular ESL section as it is aimed only at females, so by you entering our TS3 we can carry out regular voice checks to enable that we keep it as a female environment.
My team has an open match but our Female counterparts aren't in TS3, what do I do now? It's mandatory that every single player from each team is connected to the voice server, if your team hasn't yet arrived please advise an admin and we will try to resolve the problem. We recommend that you do NOT start the game until they are in the voice server, choosing to start the game without them being in the server is up to you, but all teams who are not connected will be punished.
Is there a limit as to how many players are allowed to be in my channel? Yes there is, from next week will enforce the rule that there will only allowed to be 5 members in each channel, any excess members will be asked to leave.
Specific LoL Rules
Summoners Names It's down to your discretion as a player to ensure that you have a valid Summoners Name entered into your game-account before commencing each Cup.Playing without a Summoners name entered into your game accounts could result in a disciplinary action.
How do I add a Summoners Name? You can enter a Summoners Name by going to your ESL Profile and on the Left hand side, you will find a little tab that is named "Gameaccount" , click on this directory and it will take to a page that has a drop down menu. From this menu scroll down until you find LoL Summoner name and then choose the server , in my case EU West and then finally in the box to the right enter your Summoners Name and click "Add Gameaccount".
Still having problems with your Gameaccount? If you are still having troubles when entering a Gameaccount then you can either send us a support ticket or contact us directly in our TeamSpeak Server on the day, but please make sure you do it at least an hour before the cup starts, otherwise you will hold up the other players in the cup.Basically the quicker you do it the easier it is for us and you.
Mandatory profile picture This is once again to prove any identity issues, we will NOT accept your team into the Female cups unless all players from your team have a correct profile picture uploaded to their profile.

Specific CS:GO Rules
Do we have to play using ESL Wire? Yes it's a mandatory requirement by all section in the ESL that support CSGO. By using the ESL Wire client we can ensure that all players receive a true gaming experience without the use of cheats.
One(or more)players form the opposite team played without ESL Wire, what can I do? It's up to your discretion to check that both YOUR team players are using Wire and your opponents are also using Wire in-game, if before the match has started you spot that a player isn't using Wire then please ask the to shut the game down and open it using wire.If you spot this game after that match and you haven't accepted the score than please open a protest where and admin will respond to it accordingly, but if you have accepted the score already then we will take no further action, as it is up to you to spot this!
Mandatory profile picture This is once again to prove any identity issues, we will NOT accept your team into the Female cups unless all players from your team have a correct profile picture uploaded to their profile.


Penalty Points Log
Rule violation
Number of penalty points
General
No show
Team: 3; Player: 2
Reject compulsory challenge
Normal: 1
Intense (top 10): 2
Abort match
Player / Team: 4
Use of ineligible player
Inactive barrage
Player / Team: 3
Barraged
Player / Team: 6
Unregistered player
Player / Team: 3
Missing Premium (where required)
Player / Team: 3
Missing Trusted (where required)
Player / Team: 3
Ringer/Faker
Player / Team: 6
Playing with wrong gameaccount
Player / Team: 3
Playing without a registered gameaccount
Player / Team: 3
Unsportsmanlike behaviour
Multiple/Fake accounts
Warning / 1-3 penalty points
Faking country/nationality
Warning / 1 / 2 / 3 penalty points
Deception
Player / Team: 1 - 4
Fake result
Player / Team: 4
Fake match media
Player / Team: 6
Fake match
Player / Team: 6
Cheating
Player: 12 / Team: 6
The Admin Team
We have many admins here within the Female section that are here to help our gamers enjoy the cups that we offer to the maximum, the only thing that we ask from you is to follow the guidelines that we have set out in order to make sure that our cup days run as smoothly as possible and to make it a fun environment for all.

I hope that these rules will all stand a little clearer for our players and it avoids further confusion.


Support us on Facebook & Twitter
You can all support us on Facebook & Twitter. Spread the word about our site. We'll always keep you up to date about all our female gaming activities over there. You can also send us feedback or questions via message/tweet.



No comments yet.

Information:
info write comment not allowed