Archive ESL Europe Europe Female Gaming
Happy Easter & Ladies<3LoL #14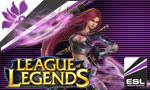 This Sunday, March 31st, we will have the last tournament of the Month. Get ready for another 5on5 Summoner's Rift showdown at 15h CET!
Ladies<3LoL #14 (EU West)
This League of Legends Cup will be held at the 31st of March (a Sunday) and will be open for all
female players
from the European West server. The cup will be played entirely on this date. All you need to join this cup is a team of five female players registered on the ESL and all registered into one team. Additional to that, you also have to enter your Summoner Name as Gameaccount in your ESL profile. If you are new to the ESL, then head over to our
LoL Cups Guide
.
League of Legends

5on5 - Ladies<3LoL #14
Cupstart:
31.03.13 - 14:00 WET / 15:00 CET / 16:00 EET
Mode:
5on5
Play Mode:
Best of One (Bo1)
Cupsize:
depends on signups
Matchdates:
round rhythm 60 mins / single elimination
Server:
Europe West
Map:
Summoners Rift
Check in Needed:
Check in
14:30 - 14:40 CET to take part.
Late signup:
Open between 14:40 - 15:00 CET.
Game Options:

Game Type:
Draft Mode

Game Style: Tournament Code
1st Ban & Pick:
The higher seed has 1st ban & pick. (Ex: seed 5 is higher than seed 12)
Voice:
All teams have to be on the ESL Teamspeak server during the entire cup. We will send every team an email with Teamspeak Info so that you can join on the day.
Information about Rules Enforcement:
Please read it here.
Important Information:
Please read it here.
New to the ESL?
Check our Cups Guide
Prizes
The upcoming 5on5 tournament on Summoners Rift will have the following RP prizes:

1st Place:
20€ as RiotPoints per player* & Triumphant Ryze

2nd Place:
15€ as RiotPoints per player*

3rd Place:
10€ as RiotPoints per player*

4th Place:
5€ as RiotPoints per player*
Note:
Prizes will only be awarded if more than 8 teams will be playing in the tournament.
More Cups?
You want more cups? Then let us know! We are willing to host more cups for all of you out there! We already have some ideas in our minds like 3on3, 2on2, ARAM or even some special rules like "both teams have to play the same champions". Tell us that you want and we will do it! You can also make your own suggestions about what kind of cups we should host. Let us know in our
forums
. Feedback in general is very welcome.
Support us on Facebook & Twitter
You can all support us on Facebook & Twitter. Spread the word about our site. We'll always keep you up2date about all our female gaming activities over there. You can also send us feedback or questions via message/tweet.

No comments yet.

Information:
info write comment not allowed