Archive ESL Europe Europe Female Gaming
Autumn League is over - and here are the winners!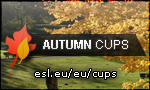 This autumn we offered you some nice female autumn cups for Counter-Strike 1.6, Starcraft II and Counter-Strike:Source. Unfortunately they are all over now, the good thing is that we can now present you the winners of these competitions! Congratulations to the best Autumnleague girls!
CS 1.6 5on5 Autumnleague - the winners
INFERNOONLINE



noNstoP


läuft.


Starcraft 2 1on1 Autumnleague - the winners
nfteamLyliom



MaddeLisk


nahli


CS:S 2on2 Autumnleague - the winners
Another.Trushka



AMANDiiNE & R0SE


Pok3G1rLs


Congratulations to all winners and also to all participants, we had some nice tournaments thanks to you! We hope you enjoyed our Female Autumn Cups and had a nice time! We would like to meet you in the next cups again.
//your

Admin Team
Isa
, Tuesday, 25/10/11 09:59


Information:
info write comment not allowed