Archive ESL Europe Europe
Rehabilitation - the 3rd quarter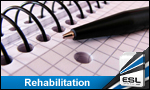 The days are getting shorter, you can purchase gingerbread and fruit loaf since some weeks now - it seems we arrived in October. This on the other hand implies, it is once again time, to publish the quarterly released news with our statistic about cheater-rehabilitation.
A little reminder - what is the cheater-rehab?
All cheaters on the ESL receive a two year barrage. But if they want to, they can request to write an essay to convince the admin team of their hindsight and regret (they only get this chance once). The topic for the essay is set by our rehab admins.
After they have finished the essay, they are also asked to reflect on their experience with cheats. They can talk about their own story if they want to, how they got into cheating and what it felt like, but not necessarily their own case. The rehab essay gives cheaters a chance to convince our admins, that they have changed after being caught cheating. If they convince the admins, the penalty points for cheating get reduced from 12 to 7 - meaning that the player is allowed to play again under strict restrictions before his two year barrage ends.
The numbers of the 3rd quarter
In general the summer months are always a "support weak" time, so overall we had 51 requests, of which
six players passed the rehab
. Furthermore there was one additional
redemption
, which adds up to 19 granted rehabs overall this year. Overall the number of supports raised to 193, so our quota of approximately
10%
stayed the same.
The rejected rehabiltations are made up of the following reasons:
Reason
3rd quarter
Total
The player had one or several fake accounts
15
79
The player handed in a rehab essay that was not convincing
16
53
The player did not complete the rehab essay in the given time
4
18
The player applied for his rehab too late (more than a year after he was barraged)
7
13
The player published his topic publicly in order to find help
0
1
The player was already barraged for cheating in the past
2
5
The rehab was granted first but later removed because the player failed to follow the restritions
1
3
The player has been barred for using a server-side-hack
2
2
Total
47
174
Future prospects
As three months of the current year are remaining, we are not at the end of our news series. Of course we will publish the overall statistics for 2011 and the statistics for October till December at the turn of the year. The recently published
news
about the current wire bans let us expect much work.
Besides that we are working on a portal, which in future will inform you even more detailed about the work of the rehabilitation squad. However there is not release date yet, "it's done when it's done" :D
Until then, we send you best regards from the front,
your

/

Rehab-Team


Information:
info write comment not allowed