Archive ESL Europe Europe Female Gaming
Do you know the female section?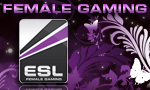 In this news we want to introduce the female section of the ESL Sports League and tell you something about it, maybe you never heard of it or you just didn't know what it is for. We want to change this now! All female players in Europe should know about the section and should not hesitate to join our community!
General information
The female section is, like the name already says, a section which is dedicated to female players. If your gender is female, you are welcome to join us, no matter which game you play. For some of us it is annoying to play with guys, it is just different to play with girls than with male players. We want to play together and against each other, and the female section brings all female players together to make this possible! In the female section it is important to have a working headset/microphone if you want to play in cups, ladders or premierships. The reason for this is obvious: we want to avoid female fakers. That is why we have our own ESL Female TS3 server where guys are not allowed to enter (except of our male admins of course).
The admin team
Like each section in the ESL, Female Gaming is also supported by admins who are working hard to cause the community a nice time and a fair play. If you want to check out who is working for ESL Female take a look at our
Staff Europe
team. We are working global, what means that a female admin tries to support as many games as possible. We do not only do CS 1.6 or CS:S or SC2, everybody supports everything, and sometimes this is really a hard challenge even for us! But we always do our best and are open minded for all games. If you want to talk to us because you have questions feel free to open a
Support Ticket
or visit us in IRC #esl.female.
Where to play in the Female Section
Cups:: From time to time we organize female cups in different modes for different games where you sometimes even can win Premium prizes like in our season cups. These are announced in news on our Female Page and on our Cup Portal. The most popular cups are for

Counter-Strike 1.6 and for

Counter-Strike:Source, but we also had great

Starcraft II and

Call of Duty 4 cups. If you prefer other games it's no problem, like we already said, we are open minded for other games. If enough female players want to play cups in other games, we will do it!


Premierships: At the moment we are running the second season of the

Female CS:S Country Championship, a tournament where national female teams play against each other. It is the first international tournament for female CS:S players of this kind and at the beginning we didn't know that there are so many girls who just waited for it! This tournament is a big step into creating an international female CS:S scene and we are very happy about the sucess.


Ladders: In the female section we have also ladders, some time ago we opened ladders for

CS 1.6 and for

CS:S which you can join. In the ladders you can play in 1on1 mode or 5on5. Here is the overview about our ladders:




Female CS 1.6 1on1 Ladder


Female CS 1.6 1on1 Aim Map Ladder


Female CS:S 1on1 Ladder


Female CS 1.6 5on5 Ladder


Female CS:S 5on5 Ladder
Maybe you have noticed that our 5on5 ladders are quiet empty, in the past this was different and we are sure, that there are many teams which would like to play in these ladders, but just forgot that they exist! Come back and join the ladders, don't wait!
We would be happy to meet you in our section and we are waiting for you! Tell your friends about it, only with your help the female section will grow!
//your

Admin Team
Isa
, Friday, 07/10/11 07:23


Information:
info write comment not allowed