Archive ESL Europe Europe Female Gaming Country Championship
Female CS:S Country Championship - Matchday 3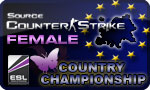 Wow, how fast the time goes! This week we already reach the third matchday of the CS:S Female Country Championship. This means that almost the half of the season will be over. Some teams still are waiting for their first win, others fight for another 3 points on their account.
Topmatch of the week
De_dust2 is the map of the week. It is one of the most popular maps in Counter-Strike:Source because everybody plays it on public servers or in pcws. The tactics are quiet limited, A-split, B-Rush... we know them all. To win this match you don't need only good team play but also good aiming. Team
Germany CS:S
proved in their last matches that they have both, but meanwhile the lineup changed because 2 girls left the team and 2 new came. That is why it could be very interesting when they meet Team
Russia CS:S
on Sunday, a team that until now couldn't show what they really can. Will the russian girls finally find their strength to beat the german girls, or will the new german lineup collect the next 3 points on the team account? We don't know yet... May the best team win!
Encounters of the 3rd matchday
09.10.11 20:00 CET


Spain vs.Poland
details
09.10.11 20:00 CET


Portugal vs. Austria
details
The match of the 3rd matchday between team
France Female
and
United Kingdom
has already been played. For more details check
here
.
Here you can find all Matches of the groupstage. Click your favorite game!
All matches can of course be spectated via Source TV, which will be announced on the match sheet.
We wish all teams a good start and to have a lot of fun! Don't forget, that they need your support, so watch the matches and be good cheerleaders.
This season will be legen - wait for it - dary!
***
You have a female CS:S team and are interested in playing against other females? We invite you to join our
CS:S 5on5 Ladder***
!
//your

Admin Team
Isa
, Friday, 07/10/11 04:52


Information:
info write comment not allowed