Archive ESL Europe Europe
Intel Extreme Masters in Guangzhou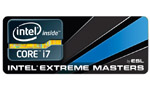 Guanghzou in China is home to the second Global Challenge of the current
Intel Extreme Masters
season. From the 1-5th of October some of the best pro-gamers in the world compete for a total of $93,000.
The Ani-Com & Games exhibition is already attracting a lot of visitors but with the Intel Extreme Masters on top of that it is just stunning how many people are here to watch the action. With names like fnatic, SK Gaming, PuMa, Jinro, IdrA and CLG, some of the most well-known players and teams are present. They get to face top Chinese and Asian teams and players, a rare chance in the world of eSports.
If you want to follow the event, head over to
ESL TV
and follow the action on two streams with casters RotterdaM, MrBitter, Joe Miller and Zenon the Stoic.

No comments yet.

Information:
info write comment not allowed