Archive ESL Europe Europe Female Gaming Counter-Strike: Source Cups
CS:S Female 2on2 Aim Seasoncup*today*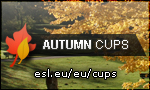 We present you today the seasoncup for Counter Strike: Source in the EU Female section. You will play a 2on2 Aim Cup to win some nice prizes. So get a mate and train as hard as you can! Show us in the cup how good your aim is and be winner to get premium and maybe an unique award.
Restrictions
2 Entered Gameaccounts (Type SteamID CSS/HL2)
Gender female
Teamlogo
Presence in Teamspeak3 is mandatory during all matches
Using Wire Anti-Cheat is obligated!
Information about the cup
Date: 23.10.11, 19:00 CET
Mode: 2on2 MR15 Cup, Single Elimination
16 participants
Rules: Funmap Ladder Rules
Settings: esl2on2aml.cfg
Overtime: MR3
Mappool: aim_glockon, aim_dust, aim_icemap, aim_map2
Mappack: 2on2 Aim Seasoncup Mappack
Sign-up

17.10.2011

00:00 CET

Sign-up begins
Sign-Up now!

23.10.2011

18:30 CET

Sign-up ends

Cup

23.10.2011
19:00 CET
1. Round

aim_glockon

23.10.2011
19:30 CET
2. Round
aim_dust
23.10.2011
20:00 CET
3. Round
aim_icemap
23.10.2011
20:30 CET
Final Loser Bracket

aim_map2

Final

23.10.2011
20:30 CET
Final

aim_map2
Check-In System
In this Cup we'll use the ESL "Check-In System". If you don't know the handling, here's a short explication.
Step 1 - Reservation (green)
Here you can reserve a place in the cup, but you have to confirm your participation later.
Step 2 - Confirmation (yellow)
30 minutes before the cup starts, you have to confirm your participation, if you have done that, you're in the Cup.
Step 3 - Entry (red)
You didn't get a free place in this cup? If there are not enough participants, you can still entering the cup 20 minutes before starting!
Your presence with your ESl-Nick in
Teamspeak3
is mandatory during all matches! You will get the Voice-Data 5 minutes before the cup is starting.
PrizesIf we reach the number of 8 participants, we can give you some premium prizes.


The best team will get as reward 3 months of Premium
The second one gains 2 months of Premium.
The third one gains 1 month of Premium.


Besides if we reach the number of 16 participants the winner team will get a special award for the team account: it is the Autumn League award!





Follow us
You want know about new cups, events e.g.? Join our community on Twitter.


Twitter FemaleGamingEU

For general questions you can ask us in #esl.female (Quakenet).

your Admin Team.
dNN
, Sunday, 23/10/11 04:28


Information:
info write comment not allowed